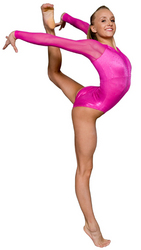 Our relationship with USA Gymnastics goes back to our first National Team contract in 1989, which led to our very first Olympic involvement in 1992 at the games in Barcelona, Spain
Reading, PA (PRWEB) August 23, 2008
GK - Elite Sportswear , L.P. , the world's leading supplier of gymnastics apparel and official manufacturer of all adidas® competitive gymnastics apparel to Team USA, is proud to salute Team USA. In their quest to be the best in the world at the 2008 Olympics in Beijing, China, Team USA Gymnastics brought home 10 medals.
The US women's gymnastics team, who started with a Silver medal in the Team Competition, followed up with Gold and Silver in the All Around - considered the main event in gymnastics - won respectively by Nastia Liukin and Shawn Johnson. Nastia went on to win the Silver Medal on the Uneven Parallel Bars in a controversial tie that awarded Gold to the Chinese gymnast. Nastia also won Silver on Balance Beam and Bronze on Floor Exercise. Shawn Johnson struck Gold on the Balance Beam and Silver on the Floor Exercise. Both Nastia Liukin and Shawn Johnson are endorsees of both GK and adidas®.
The US men's gymnastics team, considered a dark horse at the Olympics due to the loss of 2004 Olympic medalists and twin brothers Paul and Morgan Hamm to injuries, won an inspiring Bronze medal behind Teams China and Japan. Their medal winning was capped off on the final night when Jonathan Horton won the Silver medal in his "amped up" high bar routine that brought the crowd to their feet.
GK, through its exclusive arrangement with adidas®, supplied Team USA with a striking variety of team leotards and competition shirts for both the women's and men's gymnastics teams, made in the USA in GK's manufacturing facility in Reading, Pennsylvania.
GK is the official manufacturer of adidas® gymnastics apparel for Team USA, and the exclusive supplier of adidas® gymnastics competition and practice wear in the United States and Canada. In addition to men's and women's competitive gymnastics apparel, GK also offers seasonal workout apparel for gymnastics. In honor of the 2008 Olympics, GK's "Countdown to Gold" line offers both GK and adidas® branded leotards for athletes who want to be part of the excitement leading up to and through the 2008 Olympic Games. In September, GK will introduce its Post Olympics "Continue the Quest" line featuring replica versions of the leotards worn by Team USA at the Olympic Games. All will be available to order from GK's website, http://www.GK-EliteSportswear.com, or through authorized dealers nationwide.
In addition to Team USA, GK is proud to have supplied apparel for the 2008 Beijing Summer Olympics to numerous International Teams including Australia, Bulgaria, Belgium, Columbia, The Czech Republic, Egypt, Finland, Greece, Luxembourg, Puerto Rico and Uzbekistan.
Founded in 1981, GK has been outfitting top athletes since 1989. "Our relationship with USA Gymnastics goes back to our first National Team contract in 1989, which led to our very first Olympic involvement in 1992 at the games in Barcelona, Spain," said Sallie Weaver, GK's president and founder.
GK is the worlds leading supplier of gymnastics apparel and is recognized around the world for superior variety, quality, fit and service. GK is proud to have been chosen by adidas® to manufacture the US National Team Competitive apparel for USA Gymnastics since 2000. Based in Reading, Pennsylvania, Elite Sportswear, L.P., the company behind the GK brand, continues its commitment to American-made quality and continuous innovation in designs for Gymnastics, Figure Skating, Cheerleading, Dance, and Track and Field apparel. For more information about GK Elite visit http://www.gk-elitesportswear.com or call Andrew Foss at (610) 921-1469.
To see adidas gymnastics apparel, including the "Countdown to Gold" and "Continue the Quest" Team USA replica lines, visit http://www.GKELITE.com
For more information on USA Gymnastics visit http://www.usa-gymnastics.org