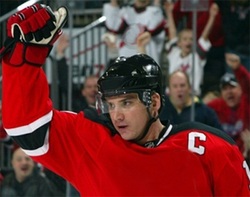 My teammates on the Devils eat Supreme Protein bars
Manasquan, NJ (Vocus) February 11, 2010
When Jamie Langenbrunner skates onto the ice, good things happen. The New Jersey Devils' captain and star forward has been a point-scoring machine this year for the his team, with 14 goals and 31 assists in 55 games thus far. More importantly, his career championship resume includes Stanley Cups won as part of the 1999 Dallas Stars and 2003 Devils. It's that kind of leadership and ability to come up big in high-profile games that has made Langenbrunner a natural choice as captain of Team USA as they set out to bring home the Gold Medal in the 2010 Winter Olympics.
"I'm honored to be given this position," Langenbrunner said with typical modesty, on a recent media conference call. "There's plenty of leaders on this team. I'm not too worried about the leadership on this team at all." And yet, when times get tough, it's certain that Langenbrunner's teammates will turn to him for inspiration. Team USA is a young team this year, with 20 of its 23 members having never appeared in an Olympic game. "Jamie is the ultimate professional," Team USA head coach Ron Wilson has said.
Team USA will need every ounce of leadership and professionalism Langenbrunner can provide. An American Olympic hockey team hasn't won the gold since the "Miracle on Ice" year of 1980, when a US team of college hockey players shocked Russia and the world. This year again the Russians (and Canadians, too) will be formidable adversaries.
Fortunately, Langenbrunner is familiar with the daily physical grind of a long NHL season, and knows what it takes to do double duty in both the NHL and as a part of Team USA, a dual role he also played in 1998 when he played as part of Team USA in the 1998 Winter Olympic Games in Nagano. This year, Jamie is prepared to excel and is in probably the best physical shape he's ever been in. An improved dietary regimen has been of paramount importance in his vastly improved strength, speed, and stamina.
"With a demanding schedule like mine, it's always been very difficult to get the proper nourishment I need to perform at my optimal level," Jamie says. "It wasn't until I started seeing guys on my team eating Supreme Protein bars that I decided to try one and I couldn't believe how great they tasted. Now, I carry them around with me all the time so I can get enough quality protein to help keep me strong, recover faster, and stay healthy throughout the season. They're a perfect high quality protein meal while in Vancouver."
Jamie's excellent experience with Supreme Protein led swiftly to a role as spokesperson for the elite-quality protein bar, and a prime place on Supreme Protein's Team Supreme. High-profile athletes in sports ranging from professional baseball and football to mixed martial arts fighting to bodybuilding (and everything in between) have formed a tight community under the Supreme Protein banner, united by their commitment to peak performance and the strict nutritional standards that help them achieve their goals. Supreme Protein itself is long established as the protein bar category leader in both the superiority of its protein blend, powered by whey isolate, and its gourmet-quality taste.
"You see the kind of people that Team Supreme attracts, people like Brian Westbrook, Mark Reynolds, and plenty of Olympic athletes, and you realize you're in good company," Jamie says. "These are people who are very serious about their fitness. It all comes back to the bars. Supreme Protein bars help me fuel peak performance."
Now, with the 2010 Winter Olympic Games only days away, Jamie Langenbrunner is going to need every dietary and physical edge he can get. "My teammates on the Devils eat Supreme Protein bars," Jamie says, "and I'll be sure to bring plenty of extra bars to Vancouver for Team USA."
###