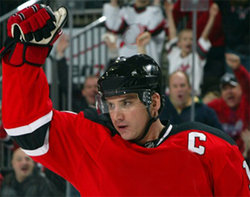 Manasquan, NJ (Vocus) February 23, 2010
Much has been made of Team USA's overall youth in these 2010 Vancouver Olympics, as its roster averages just 26 years of age. But when the game against highly touted Canada was on the line in the Canada Ice Hockey Palace on Sunday, it was an old pro with twelve years of NHL experience who came up big. Team USA captain Jamie Langenbrunner scored his team's fourth goal in a game Team USA went on to win in a shocking upset 5-3. (Team USA's Ryan Kesler added an empty net goal later, as time was running out.) In addition, Langenbrunner also had a key assist on the game's first score, a Brian Rafalski goal that set the tempo early for the Americans. For Team USA, the victory marks their first Olympic win over Team Canada since 1960, and it established them as the #1 seed in the field of twelve teams that will compete for Olympic hockey gold.
Langenbrunner's goal came midway through the third period, at a time when stamina starts to flag and intensity begins to wane under the enormous stress of a long, hard-fought contest. Langenbrunner, surrounded by players eight and ten years younger than himself, still looked amazingly sharp, powerful and focused as he led the way in creating great pressure in the Canadian zone during the power play and then crashed the net as the puck kicked out to Brian Rafalski, who took a shot. The attempt looked wide and was tipped in by Langenbrunner, under Martin Brodeur's pad, for the score. Langenbrunner's teammates have long grown accustomed to his tenacity and willingness to work hard in front of the net, especially in crunch time.
Indeed, Langenbrunner appears to be in the best physical shape of his career as these Olympics begin, a fact that the veteran credits to changes in his diet. Recently, Langenbrunner added Supreme Protein bars to his regimen and the effect on his stamina and overall conditioning has been apparent. As Langenbrunner noted before the 2010 Vancouver Games began, "With Supreme Protein, I can get enough quality protein to help keep me strong, recover faster, and stay healthy. They're a perfect high quality protein meal while in Vancouver." Jamie's excellent experience with Supreme Protein has led him to a role as spokesperson for the elite-quality protein bar, and a prime place on Supreme Protein's Team Supreme. Supreme Protein itself is long established as the protein bar category leader in both the superiority of its protein blend, powered by whey isolate, and its gourmet-quality taste.
As the medal competition heats up, Jamie Langenbrunner is going to need every dietary and physical edge he can get. The day's rest he and the rest of Team USA earned on Sunday will help their chances immensely. Team Canada, on the other hand, will have to play another preliminary game on Tuesday against Germany, while Team USA earns a bye. More importantly, Team Canada will now have to face hockey powerhouse Team Russia on Wednesday, while Team USA awaits the winner of the Switzerland-Berlarus preliminary match on Tuesday. Team USA has already defeated the Swiss 3-1 in these Olympics.
###