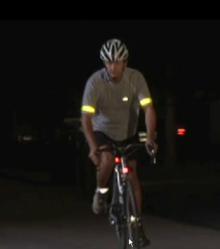 Be Cool, Be Safe and Be Seen while Bicycling, Walking and Jogging with Vedante Super Reflective POP BANDS - Visible Up to 1500 Feet!
Boulder, Colorado (PRWEB) July 18, 2012
The streets clear for Olympic track and field stars. The road does not clear for non-Olympians. Be cool and confident about night visibility by wearing Vedante Super Reflective POP BANDS.
For an online demo, view YouTube video: Vedante U-Tube Video.
Vedante POP BANDS allow visibility up to 1500 feet in the face of headlights and are available in a wide array of colors, while similar products only reflect 100-600 feet. The way cool factor is they reflect in colors!
Yellow and White POPBANDS are reflective up to 1,500 feet and are ANSI/ISEA 107-2010 compliant. Tangerine is reflective up to 1050 feet. Red, Pink, Green and Blue are reflective up to 500 feet.
Developed in partnership with 3M, POP BANDS provide 360° visibility at night when worn on the arms and legs. They can even be placed on bike handles, used as pant clips or twirled around purse straps.
Made with a special retro-reflective technology (that does not mean they are from the 1950s!), POP BANDS are designed to reflect a large amount of light directly from a light source such as a car's headlights.
POP BANDS are available for sale through select retailers, Vedante's E-Commerce Store, as well as from Amazon USA and Amazon UK. They are available in medium (1.25" x 11.75") with a suggested retail cost of $12.98/pair, and large (1.25" x 14.75") with a suggested retail cost of $13.98/pair and are high-quality and low-cost. Vedante recommends measuring the potential placement location (ankles, above elbow etc.) and purchasing a size that is about 1.5 inches larger. If the POPBANDS are a tad large or small, for a better fit, the user can bend the end flat a bit.
Being safe on your bike and walking during Olympian summer night is as easy as Snap! Tap! and Wrap! with Vedante POP BANDS.
About Vedante:
Vedante™ is a company committed to saving lives and reducing injuries from pedestrian-vehicle and bicycle-vehicle accidents by 80% in markets in which it operates. The mission is to increase visibility, and therefore nighttime safety through education, awareness campaigns, and the creation of great "fashion that reflects well on you™."
Vedante also offers a line of Super-Reflective pet accessories: cat collars in red, silver, and gold; dog collars and leashes in silver and gold. Just as with the POPBANDS, the pet accessories are made with highly reflective 3M Scotchlite, which reflects brightly when light hits it (such as from a car's headlights). They are also produced using a proprietary, patent-pending process that ensures the highest level of reflectivity and style.
Vedante has consistently ranked among the top 10 best sellers in the United States at Amazon.com in its respective categories for super-reflective POP BANDS (for people) and super-reflective pet Collars\Leashes.
For safety tips, deal alerts and fun stories follow us on Facebook and Twitter by clicking on the icons under our contact information.