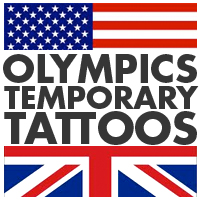 "We now offer more than 200 countries' flags. Plus, customers can order other Olympics-related designs, like sports tattoos or custom temporary tattoo designs." -Steve Tritz, Custom Sales Manager
Tucson, AZ (PRWEB) July 17, 2012
Just in time for the 2012 Summer Olympics, Tucson, AZ-based Tattoo Manufacturing has released new patriotic world flag temporary tattoos for sports fans around the world. Fans planning Olympics-watching parties or attending the Olympics in person can cheer on their national team with these fun, affordable accessories.
Temporary tattoos are easily applied with water and last for at least 3-5 days, through many hours of Olympics watching and celebrating. These tattoos don't come off in water, which means they will endure even the rainiest London days.
Tattoo Manufacturing offers hundreds of world flag designs, from USA to Jamaica to Greece. "This summer, we wanted to make sure that fans from around the world could wear a tattoo of their country's flag for the Olympics," said Steve Tritz, Tattoo Manufacturing Custom Sales Manager. "We now offer more than 200 countries' flags. Plus, customers can order other Olympics-related designs, like sports tattoos or custom temporary tattoo designs."
One popular summer Olympics idea for restaurant owners and event planners: order flag temporary tattoos in bulk and pass them out to customers and event attendees. You'll create a fun Olympics buzz and earn instant fans.
Support your country's Olympic team by wearing your country's flag! Find more unique inspiration and start your temporary tattoo order at http://www.tattoosales.com.
About Tattoo Manufacturing
Tattoo Manufacturing, a division of TMI Acquisition LLC, is the largest manufacturer of temporary tattoos in the world. The company designs and manufactures all of its products in Tucson, AZ. Products are non-toxic, hypoallergenic, use FDA certified colorants and comply with CSPC/CPSIA and ASTM requirements. All products exceed US, Canadian and EU safety standards. The company's products have a worldwide reputation for quality. Visit http://www.tattoosales.com or call 1-800-747-8016 for more information.