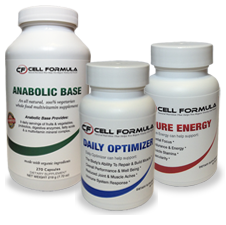 Following Team USA's gold medal performance in Olympic Women's Soccer Gold, True Healthy Products announces a new offer for athletes pursuing development of their game.
(PRWEB) August 17, 2012
After Team USA captured the gold medal in Olympic Women's Soccer, True Healthy Products announced a new offer for motivated athletes to improve their own game. Forward Abby Wambach, who scored in every Olympic game except the final, was asked how Team USA achieved the victory, she replied, "Sometimes, in final games, your goalkeeper is that one who makes the difference. She is the best goalkeeper in the world."
As athletes around the globe turn their attention to Team USA's historic victory, True Healthy Products has launched a new effort to help athletes understand the positive impact that all natural supplements can have on athletic prowess. The new free product reviews and informational reports being launched on http://www.truehealthyproducts.com/cell-formula-reports will assist athletes with supporting the body's ability to repair and build muscle mass, relieving joint and muscle aches, increasing energy, and increasing immune system response. The company hopes that aspiring olympians and athletes worldwide, inspired by this momentous event, will look into their all natural approach to improving their game.
Sports enthusiasts and Olympic hopefulls alike can now access these free reports and obtain this electrifying new offer at http://www.truehealthyproducts.com/cell-formula-reports. The reports feature information on how all natural energy supplements can naturally improve an athlete's game, regardless of ability or experience level.
True Healthy Products is a nutrition company dedicated to offering the best customer service and latest products that range from all natural sports nutrition supplements, healthy dark chocolate, weight loss programs, revolutionary skin care and whole food vitamin supplements.
For more information visit: http://www.truehealthyproducts.com
Contact:
True Healthy Products, LLC
2460 North Courtenay Parkway, Suite 210
Merritt Island, FL 32953
888.400.2920