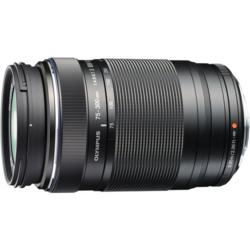 Olympus M.ZUIKO ED 75-300mm f/4.8-6.7 II Lens, Available for Pre-Order at B&H Photo
New York, NY (PRWEB) January 31, 2013
Olympus makes high-performance super-telephoto shooting more accessible by introducing the affordable M.ZUIKO ED 75-300mm f4.8-6.7 II lens (35mm equivalent 150-600mm). Olympus has redesigned the lens to match the distinctive OM-D E-M5 and PEN Micro Four Thirds series cameras and added a new advanced ZERO (Zuiko Extra-low Reflection Optical) coating to keep scratches off, and eliminate ghosting and lens flare even in bright lights.
B&H Photo Video is pleased to share with the Mirrorless photography community that we are currently accepting pre-orders on the new Olympus 75-300mm f/4.8-6.7 II lens.
The M.ZUIKO Digital ED 75-300mm1:4.8-6.7, and is capable of bringing faraway subjects like children's faces, animals and landscape features vividly to life with superb-quality close-ups. Olympus fitted a circular aperture that ensures a professional-looking bokeh with smooth and even background defocusing.
Product Highlights
Micro Four Thirds System
35mm Equivalent: 150-600mm
ZERO Lens Coating
One Super ED and Two ED Lens Elements
Three HR Lens Elements
Seven-Blade Circular Diaphragm
Olympus has redesigned the lens to match the distinctive OM-D E-M5 and PEN series cameras. The lens includes Olympus' near-silent MSC (Movie and Still Compatible) focusing technology to reduce the whir that can otherwise ruin movie playback on a High-Definition TV.
About B&H Photo Video
As the world's largest source of photography, video and audio equipment, B&H Photo-Video is known worldwide for their attentive, knowledgeable sales staff, and excellent customer service, including fast and reliable shipping. Visitors to the website can access a variety of enlightening articles and educational videos. B&H has been satisfying customers worldwide for nearly to 40 years.