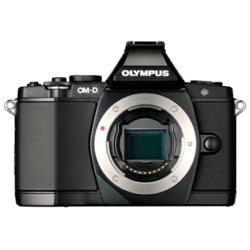 B&H Photo Video is excited to share with the Olympus photo enthusiasts the release of the latest exciting Olympus OM-D E-M5 Mirrorless camera.
NYC, NY (PRWEB) February 09, 2012
B&H Photo and video superstore, introduced the new Powerful Olympus OMD EM5 camera to its all-star camera lineup.
This impressive camera is now available for pre-order through the B&H website.
Olympus' new and bold camera integrates the best elements of its PEN series predecessor cameras, into a professional and robust mirrorless system.
The new Olympus OM-D E-M5 is designed to function both structurally and aesthetically like a pro mirrorless with all of the accompanying accoutrements. There is an optional battery grip complete with a secondary shutter-release button for superb handling and longer shooting times. The chassis of the camera is bolstered by superbly constructed body panels, and multiple seals, which makes it resistant to harmful dust and moisture.
This amazing camera is able to capture up to 9.2 frames per second, which is exceptional for any DSLR camera. In addition, Olympus boasts that this new camera has the fastest 35-area 3D tracking AF system of any interchangeable lens camera. As a professional caliber camera, the OM-D E-5M captures stills in JPEG or RAW formats interchangeably, as well as MPO for 3D capture. Video needs are fully addressed with full HD 1920 x 1080, 59.94i video with stereo sound. The camera's audio recorder features a Wind Noise Reduction feature and audio dubbing for still photos.
With respect to the viewing components for this camera, there is a special electronic view finder (EVF) installed with a 3.0 inch touch screen OLED offering 100% coverage of the image viewing area. The remarkable approximately 1.44 million pixels, ensures proper viewing in all lighting environments.
The versatility of this camera is also quite robust in that it allows for all adjustments in white balance and exposure to be conducted in real time on both the EVF and LCD. It is also possible to alternate between 4:3 and 16:9 aspect ratios to suit the photographer's individual needs and requirements.
For composing and image review, there is an option for grid lines, a histogram and dual-axis electronic level. Additionally, this camera has an image sensor 5-axis image stabilization system designed to supply consistently sharp photo results in all applications.
The OM-D E-M5 offers exposure bracketing, white balance bracketing and flash bracketing.
The camera comes bundled with FL-LM2 electronic flash and is equally compatible with all other Olympus TTL flashes.
The Olympus OM-D E-M5 contains an impressive array of Art Filters, Effect Filters and Color Modes.
In addition to its recommended accessories and lenses, photographers can also choose lenses from many other manufacturers using third-party lens adapters which are compatible with this camera.
Finally, this impressive camera is available as a body only in a choice of black and silver, both of which are impeccably stylish and functional.
Read additional information on the Olympus OM-D E-M5 cameras at B&H In-Depth.
About B&H Photo Video
As the world's largest source of photography, video and audio equipment, B&H Photo-Video is known worldwide for their attentive, knowledgeable sales force, and excellent customer service, including fast, reliable shipping. Visitors to the website can access a variety of enlightening articles and educational videos. B&H has been satisfying customers worldwide for over 35 years.
###