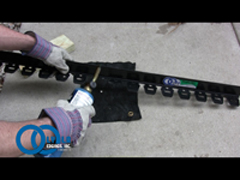 Villa Park, IL (PRWEB) June 02, 2011
Oly-Ola Edgings, Inc., the leading producer of US-made premium-grade commercial paver restraints and landscape edgings, is proud to offer a new series of How-To Videos on their website. The videos provide helpful tips and easy-to-follow visual
demonstrations for installing landscape edgings and paver restraints in landscaping and hardscaping projects.
One featured video demonstrates how to join edgings using the overlap method, which guarantees a safe, high-quality joint between edging pieces. From the newest set of videos, viewers also learn how to heat and bend several different varieties of Oly-Ola's edgings with a propane torch to form corners and various angles. More tip videos will be added.
The How-To videos may be accessed on the Installation & Tips section of Oly-Ola's website at http://www.olyola.com/edgingvideos.shtml, or on their YouTube channel. Oly-Ola may always be contacted by phone at 1-800-EDGINGS with any other installation questions.
Oly-Ola Edgings, Inc was founded in 1978 and is headquartered in Villa Park, Illinois, USA. It is America's number one producer of the most complete line of polyethylene/vinyl edgings and paver restraints. Made with 100% recycled materials, Oly-Ola has 11 edging styles available. Their products are sold exclusively through landscape distribution centers, landscape contractors, architects and independent nursery/garden centers.
For more information, please call or email Oly-Ola Edgings, Inc.,124 E. St. Charles Road, Villa Park, IL 60181. Phone: 800.334.4647. Fax: 630.833.0816
###