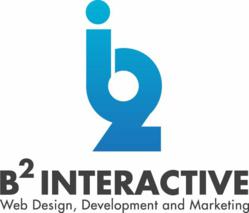 Omaha, NE (PRWEB) May 31, 2013
B² Interactive, an Omaha website design and internet marketing firm, is pleased to announce two new additions to its team. Aaron Mackel has joined the B² Interactive team as an Internet Marketing Director while Weston Cooper has joined the team as an Internet Sales & Marketing Director.
Aaron Mackel graduated from the University of Nebraska majoring in Advertising and instantly began a career in internet marketing in the Omaha area. Aaron's primary role at B² Interactive will be to work on the development and implementation of B² Interactive's local internet marketing programs for Omaha businesses and organizations. B² Interactive's local marketing programs include search engine optimization, content marketing, local listing management, paid search engine advertising, e-mail marketing and social media marketing – each of which Aaron will immediately be able to contribute to. Aaron will be responsible for the future growth of the internet marketing team at B² Interactive and will immediately be looking to fill both full-time and internship positions with B² Interactive.
Weston Cooper graduated from the University of Nebraska at Omaha with a degree in Business Administration with a specialization in Business Marketing. While at UNO, Weston was a captain of the Maverick's baseball team and the leadership skills learned on and off the field at UNO make him a perfect fit for his new role at B² Interactive. Weston will primarily lead the sales, marketing and internet advertising efforts for one of B² Interactive's clients, Storage.com. Storage.com is the leading internet domain for the storage industry offering online storage unit reservations. B² Interactive provides the sales, marketing and web development services for Storage.com.
Weston and his team's efforts for Storage.com will include helping self-storage facility owners improve their current online marketing efforts by augmenting other internet marketing efforts with the services provided by Storage.com. The Storage.com product line-up that Weston will oversee includes online directory advertising, standalone e-commerce website products, search engine optimization services and call center services for Storage.com clients.
The onsite announcement for the hiring of the new associates for B² Interactive can be found here.
As B² Interactive continues to grow the company is constantly seeking new teammates to join their team at their offices in southwest Omaha. Current job openings for the Omaha tech firm include the aforementioned Internet Marketing positions and internships as well as several Web Developer/Software Engineer positions. B² Interactive currently employs 8 people at their Omaha offices and anticipates adding another 4 full-time employees to their staff by the end of 2013.
B² Interactive is a website design, development and marketing firm in Omaha, NE. The co-founders of B² Interactive each have more than 15 years of experience in web design and internet marketing. Together they have worked in the design, operation and online promotion of hundreds of websites - from small to large, on a local and national level. B² Interactive takes their experience and focuses on taking their clients web experience and online marketing efforts to the next level. Services offered by B² Interactive include Website Design and Development, Search Engine Optimization (SEO) and Search Engine Marketing (SEM), Social Media Marketing and Campaign Management, Content Marketing and Management, Paid Search Advertising Management, Website, SEO and Social Media Analytics and Optimization.