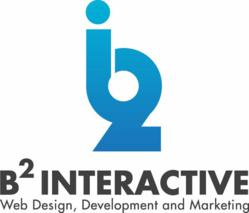 Omaha, NE (PRWEB) April 30, 2013
B² Interactive, an Omaha website design and internet marketing firm, will launch a simple to use and understand search engine marketing service for Omaha businesses on May 1, 2013. The new product incorporates six core search engine marketing services that clients can choose to use together in a bundled package or individually as standalone services.
The core services included in the B² Interactive Search Engine Marketing Service includes:

Search Engine Optimization (SEO)
Local Listing Management
Paid Search Engine Marketing
Social Media Marketing
Content Marketing
Multimedia Marketing
The B² Interactive services together are a comprehensive set of tools designed to greatly increase the chances of a local website to be found at the top of search engine results on all the major search engines. Individually, the services offer Omaha companies the opportunity to gradually step into search engine marketing at a pace they are most comfortable with.
B² Interactive's search engine optimization portion of the search engine marketing services includes options for onsite and offsite SEO improvements to client's websites. The onsite SEO services include improvements to customer's existing websites to make them more search engine friendly. The B² Interactive team works to improve site performance, structure and its ability to be indexed by the search engines. The onsite SEO services also build in the information search engines are looking for when they index the pages on the site.
The offsite SEO services help a site establish a larger overall web presence and builds new "online votes" for B² Interactive's client's websites. The offsite search engine optimization services helps to tell search engines why each site should be found at the top of search results for the keyword phrases each client wishes to have their site found for.
B² Interactive's local listing management service is a new and revolutionary marketing tool for Omaha businesses. The local listing management services by B² Interactive gives clients one simple dashboard to maintain the information about their business that they wish to share across hundreds of B² Interactive partner directories. The information that is shared with the partner directories and websites, many of which B² Interactive has exclusive partnerships with, is current and consistent. Current and consistent data makes it easier for customers to find the business and information they are looking for. Consistent directory data also helps improve client's search rankings by also keeping the search engines synced with data that doesn't become confusing due to data inconsistencies. The B² Interactive local listing services not only saves its clients hundreds of man hours each year in maintaining all of the listings but also provides them with premium listings on dozens of the top internet directories.
The paid search engine management services offered by B² Interactive include set-up, ad creation and campaign management on the top paid search engine advertising platforms. Social media marketing services by B² Interactive include set-up of customer profiles on the three major social networks and can also include daily messaging, brand building and regular engagement with customers on a client's behalf. Content marketing services includes the creation and distribution of relevant content on and about B² Interactive's client's websites. Finally, the multimedia marketing portion of B² Interactive's search engine marketing suite includes creation of videos, images, infographics and other multimedia pieces designed to get people talking.
The B² Interactive search engine marketing services are custom tailored to each client's specific goals for their website and the customers they want to reach. Clients receive detailed monthly reports to show the progress B² Interactive has made with their search engine marketing services.
About B² Interactive
B² Interactive is a website design, development and marketing firm in Omaha, NE. The co-founders of B² Interactive each have more than 15 years of experience in web design and internet marketing. Together they have worked in the design, operation and online promotion of hundreds of websites - from small to large, on a local and national level. B² Interactive takes their experience and focuses on taking their client's Omaha online marketing efforts to the next level.