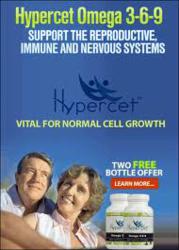 The levels of Omega in the Hypercet formula provide the correct daily dosage recommended for adults.
San Francisco, California (PRWEB) January 26, 2013
Part of a healthy diet includes more than eating more fruits and vegetables for some people. The human cells in the body receive Omega 3 oils from certain foods and these oils are essential for health. The Hypercet company has released its new product known as Omega 3-6-9 online for adults.
This new mineral based product now offers 3 of the most essential fatty oils not found in all foods in one easy to use dosage.
Not all oils provide health benefits upon consumption. Many animal based oil products include high levels of fat that have been reported in medical research to lead to health issues when over consumed. The ingestion of oils high in saturated fats can affect the heart, hair, fingernails and other parts of the body. The levels of Omega in the Hypercet formula provide the correct daily dosage recommended for adults.
Select fish like Tuna, Salmon and Herring have been medically linked to high doses of Omega fatty oils. The American Heart Association recommends two servings weekly of foods that have higher than standard Omega levels. For adults unable to consume fish due to allergies or financial reasons, finding a source for essential oils can be challenging. The Hypercet product is designed to fill the void in a dietary program to help men and women improve health and wellness.
One of the benefits of this new product is the elimination of high caloric content. It is traditional for some foods high in essential oils to have higher than average calories. Dieters or other people closely monitoring daily food intake are expected to benefit from the elimination of calories in the new 3-6-9 product. The launch online is now paired with a satisfaction guarantee. This new guarantee is offered to men or women who sample this essential oils product.
About Hypercet
The Hypercet company started developing its first products in the mid 1990s and is now one of the leading distributors of heart-healthy minerals. The Omega line of products is one area that this company now focuses on to provide more benefits to adults. The research and development team working for this company is partly responsible for the success that has been achieved since the company launch. The Hypercet company offers health, beauty and wellness products to adults in all 50 U.S. states and in other countries in the world.