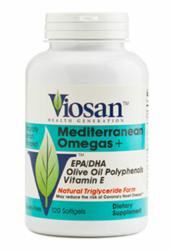 free one-month supply of Mediterranean Omegas+ with each purchase when customers use promocode "NEWyou2013"
Kissimmee, FL (PRWEB) December 28, 2012
Viosan Health Generation, in an effort to celebrate a healthy New Year, is offering to its clients a free one-month supply of Mediterranean Omegas+ when customers use promocode "NEWyou2013" during check out. Offer is valid through January 7, 2013.
Each serving of Viosan Mediterranean Omegas+ contains 2,000 milligrams of fish oils comprised mainly of 600 milligrams of Eicosapentaenoic Acid (EPA) and 400 milligrams of Docosahexaenoic Acid (DHA). Research shows that EPA and DHA – essential omega-3 fatty acids not produced by the body that must be ingested through a well-balanced diet – may reduce and even prevent many chronic heart illnesses. Omega-3 fatty acids EPA and DHA are also believed to promote eye and joint health.
Beyond the omega-3 fatty acids derived from fish oils, Viosan Health Generation Mediterranean Omegas+ also contain olive oil phenols and Vitamin E, both of which are found in a typical Mediterranean diet and are thought to further promote cardiovascular health by eliminating free radicals – that is, atoms that may inhibit the functions of healthy cells by breaking down important cellular components – and by helping to reduce "bad" (LDL and triglycerides) cholesterols.
Viosan Health will include one bottle of Mediterranean Omegas+ with the purchase of any individual supplement – such as Viosan's Cholesterol & Heart, Longevity, Multivitamin & Antioxidants, and Probiotic+ formulations – or one of the many special supplement packages offered through Viosan's website.
About Viosan Health
The founders of Viosan possess decades of successful and progressive experience in both the healthcare and health products industries. The company is committed to improving the health of every customer by offering a line of pharmaceutical quality vitamins and supplement products that target core health issues and promote healthy living. Viosan Health's doctor-formulated products are distributed by physicians and other health professionals, who recommend the brand to their patients and family members. Many of these same health professionals take Viosan Health products as part of their own strategy for maintaining optimal health, vitality and longevity. All products are made in adherence to strict manufacturing standards as contained in FDA cGMP's (verified current good manufacturing practices). Visit http://www.ViosanHealth.com for more information or to purchase vitamins and dietary supplements online.