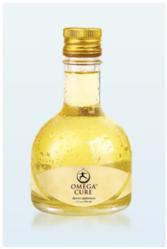 The truth is, it takes two times more krill oil capsules to get the same omega-3 levels in the blood
Venice, FL (PRWEB) July 30, 2011
A recent study from Norway supports Omega Cure's assertion that fish oil products are more valuable to consumers' health and budgets than krill oil pills. Omega Cure is a fresh, natural, broad spectrum and highly effective omega-3 fish oil with no fishy taste or smell.
The faculty of Health, Nutrition and Management in Lillestrom, Norway published a study examining the effects of krill oil, showing krill oil to be similar to fish oil; however, krill oil capsules are smaller and it takes more of them to get the same amount of omega 3. Krill oil users need to swallow six capsules of krill oil to get the same plasma, triglyceride, LDL and CRP levels as they would get from three capsules of fish oil.
"Getting enough omega-3 fish oil is vital," said Dr. Bo Martinsen, MD, Ambo Health, LLC co-founder. "The studies showing that omega-3 can help promote cardiovascular health typically use at least 2000 mg of EPA/DHA every day. The truth is, it takes two times more krill oil capsules to get the same omega-3 levels in the blood." The average American has an omega-3 index level of about four percent but at a level of 8 or 10 percent the risk of sudden heart dealth is reduced by 95 percent," said Martinsen.
Omega Cure's fish oil in pure form is also a smart financial move. The six capsules of krill oil needed to reach an adequate heart friendly dose can cost around $3.00/day. Over the course of a year, the difference can add up to about a $1000 more than fish oil.
"In terms of the results from the huge number of studies supporting the use of omega 3 fish oil and from a financial standpoint, natural, fresh fish oil provides the greater value." Said Martinsen.
For more information, visit http://www.omega-cure.com.
About OmegaCure
AMBO Health of Venice, Florida is a physician-directed company and the maker and distributor of the Omega Cure. Ambo Health, LLC was founded in 2006 by Bo Martinsen, MD, and Anne-Marie Chalmers, MD. Drs. Martinsen and Chalmers have extensive clinical and research backgrounds.
Contact:
Bo Martisen, MD
941-485-4400
bmaritnsen(at)omega-cure(dot)com
Anne-Marie Chalmers, MD
941-485-4400
achalmers(at)omega-cure(dot)com