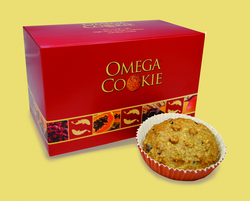 Omega Cookie™ is the perfect breakfast or travel meal
Venice, FL (PRWEB) December 16, 2008
Almost daily, new studies affirm the benefits of omega 3 fatty acids for everything from joint and heart health to weight control and increased brain function. Lack of these important fatty acids in the western diet has prompted governments and health organizations around the world to recommend an increased intake." Fish haters however, can now rejoice, as can those skittish of capsules and oils.
Ambo Foods, Inc., a physician- directed company, ingeniously loaded as much fresh, full-spectrum omega 3 as a salmon dinner, plus a substantial amount of fiber, calcium and vitamin D into a tasty, guilt-free cookie.
The Science
"Eating one Omega Cookie each day, three to seven times per week, covers all your omega 3 needs, even if you do not eat any fish at all," says Dr. Bo Martinsen, MD, co-founder and CEO of Ambo Foods. Unlike the trace amounts of omega 3 added to so many mass-produced foods today, this is the real deal. This is powerful, medically-supported nutrition in a single, delicious cookie.
As a comparison, you would need to have 84 servings of Kashi Go Lean with omega 3 or 60 servings of Smart Balance omega 3 buttery spread to obtain the same amount of effective omega 3 as in one Omega Cookie.
"Omega Cookie™ is the perfect breakfast or travel meal" says Dr. Chalmers co-founder of Ambo Foods. Each cookie is individually wrapped with a tray, napkin and resealable pouch, ready for people on the move or at home. Omega Cookie looks like a cookie and tastes like a cookie, but will satisfy you like a small, nutritious meal.
As of 2007, heart disease was the leading cause of death in the U.S. A growing body of scientific evidence supports the conclusion that high levels of omega 3 in the cell membrane are linked to lower levels of arteriosclerosis (hardening of the arteries). Ambo Foods has seen similar results with the Omega Cookie. In preparation for the launch, Ambo conducted absorption studies that showed that regular consumption of the cookie over six to ten weeks generated omega 3 blood cell levels equivalent to those found in the population of Japan, a country with not only the highest consumption levels of fish in the world, but the highest longevity rate, as well.
What's Inside
The basic ingredients are oats, whole wheat flour, fruit and fruit juices and fresh fish oil. There are no trans-fats, high fructose corn syrup or artificial ingredients. The impressive health effects come from a synergy between fish oil, calcium, and fiber, all known to be deficient in most people's diet. Together, they can improve a person's lipid profile and increase joint flexibility, mood and focus. Most astonishing is the effect on weight management. The Omega Cookie gives a strong feeling of satiation, causing fewer food cravings during the day, a finding often reported in omega 3 research.
Ambo Foods plans to launch a gluten-free version later this year and is also preparing to add other health-producing ingredients to the formula. "Omega Cookie is a cookie paradox," says Dr. Martinsen. "This is the first time a cookie can actually help with weight management, strengthen the heart and mental functioning and, at the same time, taste so good that it will become a favorite treat!"
The Omega Cookie is available in cranberry, tropical, and chocolate chip flavors at http://www.omegacookie.com. For more information about the Omega Cookie or Ambo Foods, please contact Dr. Bo Martinsen or Dr. Anne-Marie Chalmers, at
941-485-4400.
About Ambo Foods, Inc.:
Ambo Foods is a physician-directed company with headquarters in Venice. It was founded by Bo Martinsen, MD, a native Norwegian, and Anne-Marie Chalmers, MD an American who studied and lived in Norway. Both physicians have extensive clinical and research backgrounds.
Photos by Karen Bordes.
For more information or for other images, contact Sean Duade: 941 485 4400 or 941 809 0881
# # #