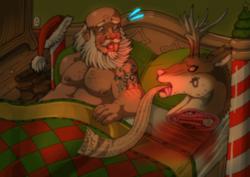 IRC is the place where wars are planned and executed. Omerta's IRC server boasts over 4000 private channels on a busy evening, with players plotting and counter-plotting against each other for the balance of power in-game.
Hull, UK (PRWEB) December 18, 2011
Omerta Game Ltd have announced that their Mafia-themed web game, Omerta has reset its international .com version (http://www.barafranca.com) to version 3.3, with a smoother gameplay experience and brand new features – including a newly improved Lackeys system, which lets players rank while offline and helps combat scripting (cheat) players.
Now in its ninth year of existence and well past its four millionth player registration, yet without the highly graphical panache of games like CCP's Eve Online or Blizzard's World Of Warcraft, the text-based old soldier is fighting-fit and read­y for a new wave of players.
What makes Omerta so durable?
The Mafia-themed MOG, Omerta (http://www.barafranca.com) may not look like a very strong player at all – but how looks can be deceiving. The venerable web-presence, launched in 2003, is still bright-eyed and bushy-tailed and relaunching its main version just in time for the Christmas school vacation.
Omerta's success over the years was brought to the game not by advertising, but (more or less) entirely by word of mouth.
"We've never paid for an advertisment for Omerta" claims Omerta Game Limited CEO Steve Biddick "we tried a couple of promotional offers, way back at the beginning of Omerta, but were not impressed with the results. At the time (and still) we received most referrals via word of mouth – and so it has remained".
So what keeps new players flooding into the Mafia streets of Omerta?
"We offer a break from the slash-and-burn glitz of animated casual games and the timeless wonder of MOGs where, try as you may, you just can't die", added Biddick. "In Omerta you need to plan your gameplay carefully as you stay dead a very long time – there's no translucent gangster spirit, trotting off to recharge to its corporeal form, no avatar clone waiting in a vat on a distant space station. Lead bullets mean death; death means begin again from the start. And furthermore the bullets from my Tommy are as hard, hot and heavy as the ones from yours. Omerta players who don't learn to interact and cooperate with the rest of the community soon come a cropper. This means people tell their friends, who tell their friends and very clannishly come together for the sake of a truly shared goal – to stay alive and make it to the top".
And get to the top they do - by fighting over Casinos and Whiskey stills, protection rackets and money-laundering operations, and by smuggling and, of course, making and buying as many bullets as possible to stockpile against the threat of rival families. All of this calls for a lot of cooperation, which itself takes place on another old trooper of the web, IRC.
"IRC is cool. Most contemporary chat-clients such as MSN and Yahoo don't offer the user a great deal of flexibility" suggests long-term Omerta employee, Jonathan van Dijken. "Omerta's IRC server is where the real action in the game takes place – deals are made and fates are sealed. You can't just shoot up whoever you want – it is like Goodfellas where the pivotal moment of the movie is an unauthorised killing. In Omerta, if you wander around shooting players just because you feel like causing some mayhem, your career will be short and violent. In order to whack a player, you will first need to approach a family via a Capo Regime or the Sottocapo – these guy's dispense the elusive Don's permission and preferences, and killing without approval is a taboo in Omerta".
IRC is also the place where wars are planned and executed and Omerta's IRC server boasts over 4000 private channels on a busy evening, with players plotting and counter-plotting against each other for the balance of power in-game.
"And this is the true panache of a really well-loved game – people talk about what they are doing in Omerta – discuss this with their real life friends and get together outside of the game" says General Manager and boss of the extensive voluntary game administration team of the game, Bianca Evers.
So what can players expect in this new version? "We can hint at the return of an unnamed but very well-loved feature, which comes to version 3.3 greatly improved and reinvented according to the players desires. If you want to know what we are all talking about you will just have to come and check it out for yourself!" - said Steve Biddick, throwing down the gauntlet to anyone stuck at home bored.
Those waiting for Santa to bring something new can take his word for it and play Omerta v3.3 at http://www.barafranca.com
About Omerta
Omerta has been online since 2003 and can rightfully claim to be the 'Godfather of all Mafia games' – and the longest-established and biggest free-to-play, massively multi-player gangster game on the web, having already achieved a number of impressive milestones including over 4 million individual registrations.
Omerta began in 2003 as an amateur project, in a bedroom in Groningen, the Netherlands.
Omerta Game Ltd was founded in 2004 to manage and further develop Omerta. It now boasts full-time staff situated in numerous offices across the world – from Eastern Asia to Western Europe – as well as global network of over 200 volunteers.
Omerta is available in 28 languages. Regional (single-language) versions are available in Dutch, French, German, Portuguese/Brazilian, Turkish and the 'Nordic' languages (Swedish, Norwegian, Danish and Finnish).
Already more than 4.1 million people have played Omerta, with more than 80'000 players logging in every day to live the life of a Mafia don.
###