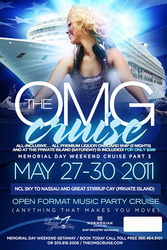 "OMG was created to provide a musical experience & celebration of life for our passengers"
Miami, FL (PRWEB) March 1, 2011
Many people make big plans for Memorial Weekend, but what? Camping in the mountains? Skiing? Vegas? Nope. It's cruising, but not the 'same old - same old' this is Freestyle cruising on the 2011 OMG Cruise aboard Norwegian Cruise Line's the 'Norwegian Sky'. NCL has been making big waves with their new brand of cruising where there is no fixed dining times, pre-assigned seating, or any stress. That translates into the freedom to dress up or down, catch a sunrise from your own private balcony, or join one of the many OMG celebrations.
Yes, much celebrating. The OMG Cruise will take care of all their guests celebrating for 3 days straight while providing the ultimate in musical open format. Since 2009, the OMG theme cruise has become one of the most popular sailings for people from all over the United States. This year, the OMG Cruise goes All Inclusive.
The OMG Cruise creator and Travel Consultant, Mr. Herlan Ruiz of Luxury Travel By Ruiz states that "OMG was created to provide a musical experience & celebration of life for our passengers". It was Ruiz's intention to set forth an atmosphere of excitement and comradery for his guests. "This time around we wanted to give our guests even more value, so we made it an 'All Inclusive' sailing'- say's Mr. Ruiz. So far, it has worked. Most of the passengers from the initial sailing have returned for more fun and new friendships.
The –All Inclusive- OMG Cruise offers an endless array of value such as: free upgrades, a kickoff party, pool parties, private island, complimentary premium cocktails, exclusive events, and their famous 'White Party' –where men and women dress in all in white for the 2nd night. OMG also features many entertainers, hosts, and many of the best known deejays in the music industry.
Norwegian Cruise Line & Luxury Travel By Ruiz join forces to provide much more than just a vacation. The OMG Cruise is an experience that continues to grow and this year it goes ALL INCLUSIVE. Anyone looking towards Memorial Weekend should find out why OMG is an unforgettable adventure of memories.
There's still time to book a cabin for ultimate social gathering on the OMG cruise aboard NCL. However, based on availability the sailing is expected to sell out. *OMG Cruise guests enjoy $8 nightly parking fee near the Port of Miami and Free Transfers from and to the ship. You can learn more about the OMG Cruise by contacting Luxury Travel by Ruiz at 866-464-5101 or 305-816-2008. You can also visit their website for details: http://www.TheOMGCruise.com
###