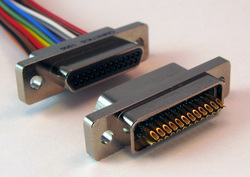 Our Micro-D's are compatible with industry standard interfaces and military standards. We have designed them with fewer components to yield a more streamline and higher quality product.
Minneapolis (Vocus) September 8, 2010
Omnetics Connector Corp, the leading manufacturer of Micro and Nano miniature and high reliability connectors, has expanded its product line with the addition of the standard Micro-D connector. Omnetics Micro-D Connectors are ideal for critical, high reliability industries including aerospace, military, and medical. They are also used in devices such as: Optics, guidance systems, on-board equipment, Space and UAV systems.
Omnetics' Micro- D connector are highly rugged and compact, available from 9 to 51 contacts with termination types ranging from wire- to-wire, surface mount, solder cup and thru-hole and are built to meet and exceed the shock and vibration requirements of MIL-DTL-83513. The connectors incorporate Omnetics' one-piece flex pin design for greater shock and vibration resistance. The high reliability gold plated flex pin is designed for >2,000 mating cycles.
Comments Nick Sanders, Project Engineer: "Our Micro-D's are compatible with industry standard interfaces and military standards. We have designed them with fewer components to yield a more streamline and higher quality product. They can be easily modified to fit custom applications. Our new Micro-D thru-hole connectors have the most compact layout available. This design translates into space savings for circuit board layout and reduction of weight for the system. These thru-hole connectors are offered in straight and right angle versions and can be readily built with multiple hardware styles or even customized for user specified mounting conditions. In addition, we offer a variety of interchangeable surface mount Micro-D solutions to extend our board mounting possibilities."
About Omnetics
Omnetics was formed in 1984 to deliver rugged, reliable interconnect solutions for the most demanding industries. The company has a fully integrated design and manufacturing plant in Minneapolis, Minnesota USA, where it produces Micro and Nano miniature interconnect products, featuring COTS, Standards and Custom connectors for industries such as Military, Aerospace, Defence, Medical and other technology oriented OEMs. 3-D models and STEP files are freely downloadable for all Omnetics' COTS (custom off the shelf) and Standard parts at:
http://omnetics.com/Products/Cots.asp
For further information:
Lori Abfalter:
Omnetics
Tel.: 763 746 8711
Email: labfalter(at)omnetics(dot)com
http://www.omnetics.com
###