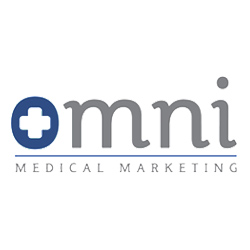 "Did you know that 61% of internet users who visit a mobile unfriendly site are likely to leave to a competitor's site?"
Denver, CO (PRWEB) December 11, 2012
As a leader in Medical Marketing, Omni Medical Marketing is pleased to announce the launch of their newly re-designed website. Implementing the best elements of Responsive Medical Practice Website Design, the new website is mobile-friendly for use with smart phones and tablet devices. With recent estimates stating that approximately 25% of all medical-related searches come from mobile devices, Omni Medical Marketing has adapted to include responsive website design in their list of services for medical professionals.
Newly redesigned, the Omni Medical Marketing website offers all the same great services and information, in a revamped and easy-to-navigate structure. Using some of the best Medical Website Design best practices, the responsive design allows users to navigate easily through the different SEO, medical marketing, website design, and social media services offered by Omni Medical Marketing. As a key focus among the plastic surgery community, responsive design offers a number of advantages over older, out-dated mobile website designs. Some of these advantages include:

Since responsive design uses the main website's content and navigation, any changes to the main site are reflected in mobile versions.
There is no risk of being penalized by search engines for publishing duplicate content since this is not a separate website.
Responsive design adjusts automatically to screen size, so new tablets and smart phones will not negatively impact the mobile version.
Offers all the same great information and function of your main site.
There are no redirects upon device detection that can cause users to become confused and lose their location on the site.
Sharing links via social media is simplified as mobile users and desktop users will be able to use the same links.
"Did you know that 61% of internet users who visit a mobile unfriendly site are likely to leave to a competitor's site?" explains Patrick Chavoustie, CEO of Omni Medical Marketing. "With responsive design, similar to that used on Omni Medical Marketing's site, your medical practice can retain those visitors and give them a great mobile experience."
Through the end of December, Omni Medical Marketing is also offering reduced pricing on all responsive website design for medical practices. As well, for each new client, Omni Medical Marketing will make a donation to Autism Speaks or The Autism Society of Colorado.
Offering the very best in medical marketing, SEO, website design, social media marketing and more, Omni Medical Marketing is committed to delivering a successful and effective medical marketing plan. Dedicated to staying ahead of the technological curve, Omni Medical Marketing recognizes that Responsive Website Design is the future of mobile search and mobile marketing.
About Omni Medical Marketing: Specializing in Plastic Surgeon SEO and Website Design, Omni Medical Marketing lends experience and knowledge to all medical practices, including dentists, orthodontists, cardiologists, and more. With over 40 years of combined experience in marketing, search engine optimization, website design and development, and customer service, Omni Medical Marketing takes pride in the high level of service and attention to detail delivered to every client.
Contact Information
Omni Medical Marketing
Patrick Chavoustie
http://www.omnimedicalmarketing.com
7475 E. Peakview Avenue
Centennial, CO 80111
(800)549-0170