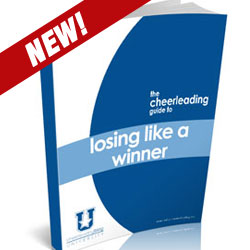 This eBook is just as important for coaches and parents as well, as they are many times the rock for their cheerleaders.
(PRWEB) May 01, 2013
Cheerleading Blog University has released a new cheerleading guide entitled, "Losing Like a Winner."
This latest guide focuses on how to turn a loss into a win. It includes tips on finding the positives in a negative situation, how coaches can inspire their squad to cheer up, and how parents can show their support.
"A loss is something that every cheerleader goes through at some point. It's important for cheerleaders to learn how to refocus their energy on improving and understanding all the good things they accomplished. This eBook is just as important for coaches and parents as well, as they are many times the rock for their cheerleaders," said Cheerleading Blog University editor, Melissa Darcey.
The Losing Like a Winner guide is now available for download on the Cheerleading Blog University website.
The University, a feature of Cheerleading Blog, has been publishing free cheerleading eBooks since 2012. All University guides are free to download, save, and print. The only payment required comes in the form of a Tweet or a Facebook post, allowing everyone access to the eBooks.
In partnership with Omni Cheer, a leading cheer apparel retailer, Cheerleading Blog has provided cheer news, tips, tutorials, and advice for cheerleaders, cheer parents, and coaches for several years.
"The University allows us to readdress and expand on issues we've previously tackled on the blog, especially topics that are important to cheerleaders, like tumbling tips, stretching tricks, and advice on dealing with a game or competition loss," commented Jessica Rzeszut, Omni Cheer marketing manager.
Although a newer feature of the blog, "Losing Like a Winner" marks the 29th eBook from the University. The previous eBook on busting cheerleading myths was released in early April.
About Cheerleading Blog University:
The University launched in 2012 and provides tips and answers for everything cheer, including tryouts, uniform ordering, fundraising, living a cheer lifestyle and more!
About Cheerleading Blog:
Cheerleading Blog is the official blog supported by industry leaders Omni Cheer®, Campus Teamwear®, Chasse®, Fund2Raise® and Glitterbug® Cosmetics.
About Omni Cheer:
For over twenty years, Omni Cheer has supplied cheerleaders with apparel and accessories. The cheer gear retailer guarantees the lowest prices on high-quality items, including uniforms, warm-ups, shoes, pom poms, practice wear, accessories, fundraising items, and body basics. To learn more, please visit the online store.