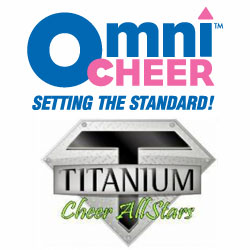 We love extending our support to cheerleading squads and gyms that promote cheerleading.
San Diego, CA (PRWEB) April 17, 2013
Omni Cheer, a cheer gear retailer, is providing a gift basket donation for the Titanium Cheer All Stars' annual open house. The open house, which takes place April 27th at Titanium Athletics, features a free stunt clinic and goodie bags for all cheerleader attendees.
Other activities and fun include food vendors, a bounce house, a chili cook-off, raffles, family activities, and a performance by Titanium Cheer All Stars. Cheerleaders also have the opportunity to meet the coaches, visit the gym, and sign up for classes and workshops. Nearly 500 cheerleaders from two different states are expected to attend.
In support of the open house's mission to celebrate and educate, Omni Cheer is supplying Titanium with a gift basket for a giveaway.
"We love extending our support to cheerleading squads and gyms that promote cheerleading. Titanium's open house is a fantastic opportunity for cheerleaders to sign up for and attend clinics to improve their skills," said Omni Cheer marketing manager, Jessica Rzeszut.
The gift basket provided by Omni Cheer includes various cheer items from Chassé Cheer and Glitterbug Cosmetics, including practice wear clothing and glitter makeup.
"We have been very satisfied with Omni Cheer as a valued vendor. From cheer gear to shoes to makeup, the products are always high quality," commented Theresa Cottrill, Vice President of Marketing and Operations at Titanium Athletics.
The Titanium Athletics Community Open House begins at 9am on Saturday, April 27th in New Freedom, Pennsylvania. For more information, visit http://www.TitaniumAthletics.com.
ABOUT OMNI CHEER:
For over twenty years, Omni Cheer has supplied cheerleaders with apparel and accessories. The cheer gear retailer guarantees the lowest prices on high-quality items, including uniforms, warm-ups, shoes, pom poms, practice wear, accessories, fundraising items, and body basics. To learn more, please visit the online store.