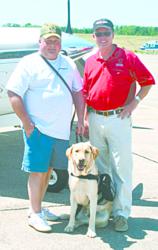 "VAC and Omni Financial Fly Wounded Warrior and New K9 Home"
(PRWEB) April 25, 2013
The Veterans Airlift Command (VAC) and its country-wide network of volunteer pilots and aircraft owners, make it possible for wounded military personnel, veterans, and family who cannot travel long distances on their own, to be airlifted, FREE of CHARGE, for medical care or to be reunited with family and friends to celebrate significant life events.
The latest person to benefit from the VAC's unique service was U.S Army SGT John Davis. John served in Iraq in 2004 and after serving only three or four months he was diagnosed with severe migraine headaches and later with Traumatic Brain Injury (TBI) and Medevaced out of Iraq and back to Augusta, GA for treatment. As a result of his condition John's memory was affected, as was his balance, sometimes requiring him to use a cane.
After returning home to Abbeville, SC, Melinda, his wife and a member of several support groups, was there to assist him. As a result of his injuries John has good days when he can cook and "putts around" the house and on bad days he sometimes just stays in bed. He attempts to avoid public places and large crowds. He is also extremely sensitive and sometimes becomes disoriented by loud sounds. After hearing about the "K9s for Warriors" program from a friend, John and Melinda applied in September 2012 and were accepted for the April 2013 class . John was flown by a VAC volunteer pilot to the "K9 For Warriors" facility in Palm Valley, FL.
At this facility service dogs are trained and eventually paired up with veterans who have certain needs as a result of conflicts from wars after 9/11. The mission of "K9s For Warriors" is to help those suffering from certain injuries to transition to civilian life with dignity and independence. Having the companionship of a service dog is also a proven recovery tool in the prevention of suicidal tendencies. These service dogs, in the words of "K9s For Warriors," "are walking prescriptions to those suffering from certain traumatic injuries." John started at the "K9 for Warriors" facility on Easter Sunday and after three weeks of instruction he and his new four legged friend Chester will be flown home to Abbeville, SC.
Andre Bohy, President of Omni Financial who flies out of the Danbury, CT Municipal Airport and is a veteran of many VAC missions as well as rescue flights for "Pilots N Paws," has again volunteered his time, personal aircraft and fuel, which was donated by Omni Financial, to fly John and Chester back home. This return flight left Northeast Florida Regional Airport near ST. Augustine on Saturday, April 20th bound for Greenwood County, SC Airport just outside of John's hometown. This "HERO FLIGHT" as they are called, allowed Bohy a unique opportunity to change the tail, or identification number of his aircraft, from its usual N1849P to a special "HERO FLIGHT" designation of HRF49P. This trip home will complete another well-deserved Veterans Airlift Command mission.
When asked about his VAC opportunities Bohy commented…"Nothing I could do would ever begin to approach the sacrifices made every day by the brave men and women in our military. Flying a wounded soldier to a far-off medical facility for treatment, or to attend a once-in-a- lifetime family event like a birth or a wedding is the very least I can do." Bohy went on to say, "I'm prepared and looking forward to flying more VAC missions in the future."
For more information on the Veterans Airlift Command and their volunteer air service, visit their website at: http://www.veteransairlift.org