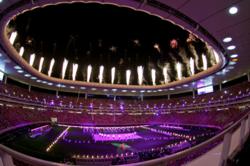 When specifying systems to support Omnilife Stadium's fiber optic infrastructure, we did not hesitate to recommend the Telecast Fiber Systems equipment
Worcester, MA (Vocus/PRWEB) March 10, 2011
Advanced fiber optic solutions from Telecast Fiber Systems are playing an integral role in the A/V and broadcast systems for Mexico's new, state-of-the-art Omnilife Stadium — the country's fourth largest sports arena and the home of the Club Deportivo Guadalajara football team (also known as the Chivas). With help from systems integrator GNODE, Telecast Fiber Systems equipment provides smooth and seamless transport of high-quality video feeds to the stadium's four giant HD screens as well as providing broadcast feeds.
"When specifying systems to support Omnilife Stadium's fiber optic infrastructure, we did not hesitate to recommend the Telecast Fiber Systems equipment," said Fernando Gutiérrez, director, GNODE. "We knew the systems would exceed our client's expectations for high-quality and cost-effective signal-to-signal transport, stability for HD presentations, and power supply redundancy."
With a seating capacity of 49,850, the stadium features two main Lighthouse Pi10-ER HD video screens, each measuring 11.52 meters x 6.72 meters and two secondary screens measuring 11.55 meters x 0.96 meters. In the stadium's control room, two eight-channel Telecast Fiber Systems Python II™ bi-directional transmit/receive systems provide camera feeds to the video boards. An additional eight-channel Python II supplies HD feeds from broadcasters covering the games to the screens. Telecast Fiber Systems Rattler™ 3G miniature transmit/receive modules enable the transport of HD/SDI video signals from the cameras, and then to the displays.
"As one of Mexico's most iconic sports teams, the Chivas deserve to play in a stadium that lives up to their fabled history — and Omnilife Stadium more than meets that goal," said Steve DeFrancesco, Telecast Fiber Systems vice president and general manager. "It's a real testament to the technical excellence and reliability of our products that they were chosen to serve such a critical function in this state-of-the-art new venue."
About Telecast Fiber Systems, Inc.
Telecast Fiber Systems, Inc. is the company known for its portable and fixed fiber optic systems for television broadcast production. Telecast Fiber Systems' video, audio, and communications systems are used worldwide by TV networks, teleproduction companies, sports venues, and various private, educational, government, and military organizations to extend range, simplify cabling, and reduce labor costs and set-up time. Telecast Fiber Systems systems have helped usher in the age of HD television production, and the company now is active in the development of 3D HDTV production. Telecast Fiber Systems is a subsidiary of Belden (NYSE: BDC), a leader in comprehensive signal transmission solutions for fiber, cable, wireless signal, and industrial networking applications.
More information about Telecast Fiber Systems can be found at http://www.telecast-fiber.com.
###