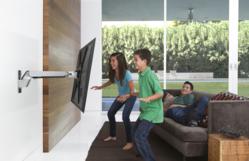 Fairfax, VA (PRWEB) April 12, 2012
Technology Expert Scott Steinberg recently spoke with NewsWatch about some of the best technology products of 2012. With TV's now becoming the central hub of every household, used by members of the family for exercise, gaming, and of course watching television; the need for quality mounts with multiple options is becoming ever more important. One mounting company that really caught Scott's eye for it's ability to be just as interactive as the TV itself and really cater to the evolving family room was OmniMount.
Omnimount just came out with two new models, the Play20 and Play 40. What makes these mounts unique is their ability to be moved into almost every possible viewing angle. Traditional full motion mounts typically only provide horizontal movement. The Play 20 and Play 40 go beyond that by also allowing both vertical lifting and lowering. With the mounts' integrated technology, it requires very little force to move the television or monitor to exactly where a consumer wants.
The Play 20 and Play 40 provide 180 degrees of pan and can be lifted upward or downward. The screen can be tilted up and down for a perfect viewing angle every time. This means users can lower the TV near the floor to follow exercise videos, raise it overhead for group viewing at parties, even pull it up and forward for gaming and then move it back against the wall when not in use. The mounts are very easy to install and are perfect for mounting over a fireplace or in areas with very limited wall space.
The Play20, which retails for $129.99, is ideal for any screen 20 lbs. or less, and the Play40, which retails for 299.95, is intended for televisions that are 40 lbs. or less. For more information head on over to omnimount.com.
Hailed as a top voice for today's high-tech generation by dozens of publications from USA Today to Forbes and NPR, Scott Steinberg has covered the field for 400+ outlets from The New York Times to Entertainment Weekly and Wired. A frequent on-air technology analyst for major TV networks including ABC, CBS, FOX, NBC and CNN, Scott's also a bestselling author and creator of the The Modern Parent's Guide and Business Expert's Guidebook series. More than one billion people have turned to his columns and reports for insight into all things high-tech. He is the CEO of TechSavvy Global.
NewsWatch is a weekly 30-minute consumer oriented television show that airs nationwide. NewsWatch regularly feature top celebrities, health tips, technology products, medical breakthroughs and entertainment news on the show. The show airs in 190 markets nationwide as well as all of the top 20 broadcast markets in the country. For more information, head to newswatchtv.com