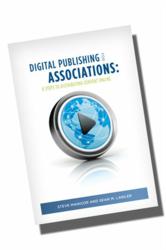 This book is designed to be an easy-to-use, step-by-step guide for taking content online through a digital publishing platform.
Madison, WI (PRWEB) August 09, 2012
Omnipress is excited to announce the release of their new book, "Digital Publishing for Associations: 8 Steps to Distributing Content Online."
Omnipress has partnered with associations to optimize the collection and delivery of educational content for conferences, training events and scholarly publications for over 35 years. In the last four years, an increasing number of associations have relied on Omnipress to assist in the transition of moving educational content from print, CDs and flash drives to a digital publishing platform.
Steve Manicor, Vice President of Business Development at Omnipress who co-wrote the book states, "Associations are looking to us for direction in building the bridge between physical and digital products." He continues, "Taking content to a digital publishing platform allows a number of our association clients to enhance the value of their content through improved access control, searchability, eCommerce options and branding. This means associations can leverage content as a key component to market and brand their association."
Co-authors, Manicor and Sean Lawler, Product Director at Omnipress, break down the daunting process of getting educational content online into eight simple steps showing associations just how easy and important it is to put content into digital publishing platforms.
"This book is designed to be an easy-to-use, step-by-step guide for taking content online through a digital publishing platform," Lawler states. "It frames up the key topics and provides real world examples used by current associations."
This book will be released at ASAE's 2012 Annual Meeting in Dallas, Texas August 11-14th. Attendees can pick up a free copy in Booth #522. Non-attendees are welcome to reserve their copy as well by pre-registering on the Omnipress website.
About Omnipress
Omnipress provides over 900 associations practical solutions for their educational meeting, training and publication content.
We focus on helping you take your valuable content assets containing your industry's most exciting research, ideas and education and delivering it in ways that make it more relevant, accessible, useful, timely – and, of course, cost effective.
We help transform your educational program content, course materials and publication content into valuable assets you can deliver online, in print, via mobile devices and more.
Services Include:
--Online Abstract Collection and Management Systems
--Flash Drive and CD Production
--Digital Publishing Platforms
--Print-On-Demand and Order Fulfillment
--eBook Conversion
For more information, visit http://www.omnipress.com.
###