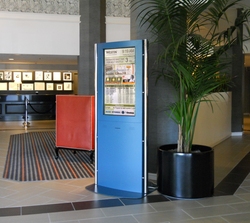 Concord, ON (PRWEB) November 8, 2010
Omnivex Corporation, a Microsoft Gold Certified Partner and leading provider of enterprise software for digital signage networks, will be exhibiting at the Customer Engagement Technology World (CETW) trade show taking place in New York City, November 10 & 11. Omnivex will be featuring its newest GPSLink software for location based services, dynamic interactive wayfinding and other unique capabilities of its Moxie content management platform.
Omnivex GPSLink software can deliver real-time content on screens for moving vehicles. The software was recently deployed on Destination Shuttle Service's airport shuttle buses at LAX and operates in conjunction with interactive kiosks placed in the lobbies of their partner hotels. Omnivex GPSLink serves to add context to content by making messages relevant to a vehicle's current location, thereby creating a more engaging viewer experience.
The dynamic interactive wayfinding capabilities of Omnivex Moxie software will also be on display in the booth, to illustrate the ways in which it can be used to improve the customer service experience in various industries. Using Moxie, wayfinding content can be created quickly and easily updated, without the need for software programming or file rendering, allowing for greater flexibility.
In addition, Omnivex will be showcasing some recent partner projects they have done with Send A Message Inc. These include a unique multi-purpose digital media kiosk for use by hotels and other hospitality providers, as well as a digital touch screen concierge for hotels, which provides travel, local and hotel information content to improve the guest experience. Omnivex is providing both the software platform for the touch screen interface as well as the backbone management for these systems.
Omnivex President, Jeff Collard, will be speaking at CETW in the Cooking Up Content Theater on November 11th at 12:30pm. He will be speaking about the importance of "Creating Context in Content" to shed some light on how taking a data-driven approach to digital signage will ensure the timely delivery of relevant content to various audiences.
The Omnivex booth will also be a stop on the Digital Signage Experts Tour, hosted by Minicom.
The CETW provides a focused venue to learn about the benefits of using kiosks, self-checkout and other self-service technologies to improve customer engagement, increase revenues and improve operational efficiencies. Visit Omnivex in booth 313 at the Jacob Javits Convention Center to learn more about how choosing the right technology can help your organization realize the value of dynamic, real-time visual communications.
Following CETW, Omnivex and Send A Message digital media photo kiosk and interactive concierge applications can be seen November 13 - 16 in booth #2370 at the International Hotel, Motel & Restaurant Show, also taking place at the Jacob Javits Convention Center.
About Omnivex
Founded in 1991, Omnivex is a leader in software development for digital signage. Omnivex software is used to manage all aspects of digital signage networks, including content management, real-time data acquisition and distribution, and remote device monitoring and management. Omnivex and our customers have been recognized with numerous awards for excellence in digital signage. For more information, visit http://www.omnivex.com.
# # #