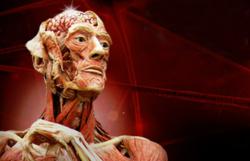 "The brain is an incredible marvel of engineering. I wanted people to recognize what is known about this amazing gem inside our heads, and be awed by its possibilities and capacities."
- Dr. von Hagens
Portland, Oregon (PRWEB) October 18, 2011
The Oregon Museum of Science & Industry (OMSI) announces its newest featured exhibition, Gunther von Hagens' BODY WORLDS & The Brain, opening to the public on Thursday, October 20 for a limited engagement.
Decipher the mystery and complexity of the human body and brain. BODY WORLDS & The Brain includes more than 200 authentic human specimens—including entire bodies, individual organs, and transparent body slices—preserved through Plastination, Dr. von Hagens' revolutionary preservation method. The exhibition highlights the neuroscience research on brain development, performance, disease, and disorders. Through respectful, aesthetic, and often very moving displays, BODY WORLDS & The Brain invites both intensive study and profound reflection on the power, beauty, and fragility of the amazing human body and brain.
OMSI hosted the Pacific Northwest debut of BODY WORLDS in 2007. The exhibition made history at the museum with a total of nearly 400,000 visitors during its 4-month run. "After the extraordinary community response to BODY WORLDS four years ago, we are excited to host a new exhibit, BODY WORLDS & The Brain at OMSI. It presents an unparalleled opportunity to learn about the anatomy of the human body, with both its resilience and fragility. The exhibit also conveys important health messages that OMSI, and our partner OHSU, believe will positively impact the lifestyle choices of many who see the exhibit," said Nancy Stueber, OMSI president.
In keeping with his mission of educating people, Dr. von Hagens, inventor of the Plastination process and creator of BODY WORLDS and his wife, Dr. Angelina Whalley, conceptual planner and creative designer of the exhibitions, have created a holistic meditation on the brain that merges anatomy, neuroscience, and philosophy that resonates with everyone.
"The brain is an incredible marvel of engineering. I wanted people to recognize what is known about this amazing gem inside our heads, and be awed by its possibilities and capacities," said Dr. von Hagens.
"We wanted to present this most complex organ in a way that was accessible to the general public, and in the most elegant way," said Dr. Whalley, the physician who planned the BODY WORLDS exhibitions that have been seen so far by more than 33 million people worldwide.
BODY WORLDS & The Brain is presented at OMSI by the OHSU Brain Institute with support by Mentor Graphics.
General admission prices are: $17.00 for children (3-13), $20.00 for students & seniors (14+ w/ school ID & 63+ w/ ID), and $25.00 for adults. Tickets are available for purchases online at http://www.omsi.edu/bodyworlds or by phone at 503.797.4486. Tickets include admission to BODY WORLDS & The Brain and OMSI's permanent exhibits. The museum and exhibition are open daily from 9:30 a.m. to 5:30 p.m. and open late on Friday and Saturday evenings until 9:00 p.m. Discounted pricing is available for school groups. Please visit http://www.omsi.edu or call 503-797-4661 for group tickets.
About OMSI
Founded in 1944, the Oregon Museum of Science and Industry is one of the nation's top ten science museums, a world-class tourist attraction and an educational resource for the kid in each of us. OMSI is located at 1945 SE Water Avenue, Portland, Oregon 97214. For general information, call 503.797.4000 or visit http://www.omsi.edu.
# # #