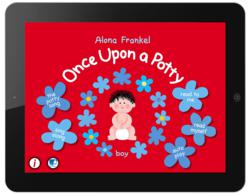 Once Upon a Potty has garnered worldwide attention and has been used as a potty training companion by generations of families.
Encinitas, Calif. (PRWEB) May 31, 2011
Oceanhouse Media, Inc. introduces Once Upon a Potty: Girl and Once Upon a Potty: Boy omBooks (Oceanhouse Media digital books) for iOS devices. Available at the introductory price of $2.99 each, the new Once Upon a Potty omBooks are the first in a licensing partnership with child matters media and renowned author and illustrator Alona Frankel.
Once Upon a Potty picture books, audio editions and videos have sold more than five million copies in the United States alone and have been translated into many languages. Publisher's Weekly repeatedly listed them as #1 (Boy) and #3 (Girl) in its all-time bestselling hardcover childcare charts.
"We're happy child matters and Alona have joined our family of outstanding partners," said Michel Kripalani, founder and president of Oceanhouse Media. "Once Upon a Potty has garnered worldwide attention and has been used as a potty training companion by generations of families. As a parent of young children myself, I'm sure the apps will be quite useful in my own kids' potty learning stages."
The two Once Upon a Potty omBooks include numerous features tailored to different age groups. In keeping with the original content of the classic bestsellers, the new apps follow the boy (Joshua) and the girl (Prudence) graduating from diaper reliance to potty appreciation en route to the (inevitable) toilet. Three reading modes include Read It Myself, Read To Me, and Auto Play. Two new music modes, The Potty Song and Sing-Along, allow young children and their caregivers to sing a smart, catchy, jazzy tune themselves or follow the original vocalist.
"I wrote and illustrated the original Once Upon a Potty for my second son, Michael, in 1975," said Alona Frankel. "Watching these titles grow into such beloved, evergreen classics has been incredible. It's exciting to work with Oceanhouse Media in bringing my books to interactive digital platforms."
Additional app features include vibrant original artwork, picture/word association, text and song lyric highlighting, professional audio narration, delightful child voices and a scene-by-scene original musical score. Each Once Upon a Potty story is narrated by a mother's voice, describing body parts and functions, the "figuring out" of what a potty is and what it can be used for, all leading up to the patient, humorous conquering of the developmental challenge.
"As a composer, a producer and my mother's son, I knew we had to partner with the best," adds child matters' founder Ari Frankel. "Oceanhouse Media are not only ultra-experienced and knowledgable, but also consistently adventurous. They delight with their quality and attention to detail." Celebrating the launch, child matters media has compiled exclusive, related videos on their YouTube channel http://www.youtube.com/childmatters.
Alona Frankel and child matters join the Oceanhouse Media family of licensors with children's titles that includes Dr. Seuss Enterprises, Houghton Mifflin Harcourt Publishing Company, Zondervan (a division of HarperCollins), Mercer Mayer, Soundprints, Andersen Press, Hay House Publishers, Character Arts and Chronicle Books.
About Oceanhouse Media, Inc.
Creators of the award-winning Dr. Seuss book apps, Oceanhouse Media, Inc. is a leading publisher of more than 175 mobile apps for iOS (iPhone, iPad, iPod Touch) and Android devices. The company was founded in early 2009 by Michel Kripalani, formerly CEO of Presto Studios and Director of Business Development at Autodesk. The company has sold more than one million paid apps with thirteen reaching the number one spot within their categories on Apple's App Store. Oceanhouse Media's corporate focus is to uplift, educate and inspire through technology. For more information, visit http://www.oceanhousemedia.com. Follow the company at http://www.facebook.com/OceanhouseMedia and http://twitter.com/OceanhouseMedia.
About Alona Frankel
The mom behind the classics was born in Cracow, Poland in 1937 and has created more than 40 Joshua & Prudence picture books. Alona's art has been exhibited in Italy, Holland, Hungary, Poland, Japan, Korea, Israel, Egypt, and the United States. She has enjoyed international recognition, including the Hans Christian Anderson Honor and several Parents' Choice Awards, and continues to create playful titles, which often embed developmental and educational elements. Visit Alona at http://www.alonafrankel.com.
About child matters media
Founded by composer and producer Ari Frankel, child matters media is a new-media producer, featuring award-winning music, sound design, post-production, book packaging and mobile application development for all ages. For more information, visit http://www.childmattersmedia.com. Follow the company at http://twitter.com/childmatters and http://www.facebook.com/onceuponapotty.
omBook is a trademark of Oceanhouse Media, Inc. • "Once Upon a Potty" and "Joshua" and "Prudence" are registered trademarks of Alona Frankel.
###