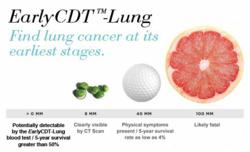 We're proud to take this opportunity to emphasize the dangers of this disease and the importance of early lung cancer detection
De Soto, KS (PRWEB) July 25, 2011
Oncimmune® LLC, maker of EarlyCDT™-Lung, a simple blood test that aids physicians in the early detection of lung cancer, proudly announces the launch of a public awareness initiative designed to educate consumers about lung cancer prevention and detection.
Founded in 2006, Oncimmune, LLC has quickly become a leading authority in the field of early cancer detection. Using proprietary immuno-biomarker technologies, EarlyCDT-Lung is assisting physicians in the early diagnosis of lung cancer. A key advantage of EarlyCDT-Lung is its ability to detect early stage cancer with higher specificity than that of spiral-CT, the standard diagnostic imaging test used today.
Committed to the continued pursuit of lung cancer research and early detection methods, the Oncimmune team is taking strides to increase public awareness about this deadly disease. In order to do so, Oncimmune has enlisted university students, many of whom have been personally touched by the disease, to distribute educational materials which describe early lung cancer detection and prevention methods. This initiative will make educational materials available in thousands of retail locations throughout the United States. Oncimmune aims to foster a dialog among consumers and physicians; a dialog that will inspire people to take a more active role in lung cancer risk assessments and prevention.
"This simple blood test is changing the way we approach lung cancer detection," said Greg Stanley, Chief Commercial Officer of Oncimmune. "We're proud to take this opportunity to emphasize the dangers of this disease and the importance of early lung cancer detection. The campaign is particularly timely given the recent publication of the NCI study in the New England Journal of Medicine, which highlighted that early detection of lung cancer, in their study using spiral CT, resulted in a 20% mortality improvement."
As one of the most difficult to diagnose forms of cancer, lung cancer is generally not discovered until the disease has progressed to later stages. In fact, recent statistics indicate that 85% of cases are diagnosed symptomatically when the patient is suffering from late stage lung cancer. Advancements in technology, such as EarlyCDT-Lung, are setting the stage for new and innovative approaches to cancer diagnosis and treatment.
With plans to continue their public education initiative, and to release an EarlyCDT™ test for other solid tumor cancers in the future, Oncimmune is poised to continue to revolutionize early cancer detection research for years to come. Look for these and other exciting announcements from Oncimmune as they continue to explore the possibilities of immuno-biomarker technologies.
About Oncimmune LLC
Oncimmune (USA) LLC, founded in 2006, is an industry leader in early cancer detection. The company is committed to advancing early cancer detection through proprietary immuno-biomarker technologies based on biological technology identified by John Robertson, M.D., Professor of Surgery at Nottingham University, England, and Chief Scientific Officer of Oncimmune LTD. Ongoing research and development is conducted by Oncimmune under the direction of Professor Robertson. The company's mission is to develop early cancer detection tests to identify more than 90% of solid-tumor cancers, which make up 70% of all cancers including lung, breast, colorectal, prostate, stomach, pancreatic and ovarian. All testing is performed exclusively at Oncimmune's CLIA (Clinical Laboratory Improvement Amendments) regulated laboratory located in the metro Kansas City area. Oncimmune LLC is a wholly owned subsidiary of Oncimmune LTD. Oncimmune LTD owns a portfolio of patents, including Patent Nos. 7,402,403 and 7,205,117, with five others currently filed and under review. For more information about Oncimmune, visit: http://www.hellohaveyouheard.com.
###