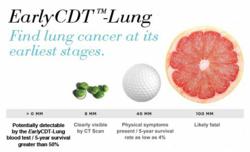 We are encouraged that together Oncimmune and SDP will reach more people and provide them an opportunity to gain information that could positively impact their health.
De Soto, KS (PRWEB) September 13, 2011
Oncimmune® (USA) LLC, maker of EarlyCDT™-Lung, a simple blood test that aids physicians in the risk assessment and early detection of lung cancer, recently partnered with Stroke Detection Plus® (SDP), a leading provider of stroke and osteoporosis risk screenings. Stroke Detection Plus will offer EarlyCDT-Lung to their clients who are at high risk for lung cancer based upon smoking history and other known risk factors.
Introduced in the United States in 2009, EarlyCDT-Lung uses a panel of tumor antigens to detect autoantibodies produced by a patient's immune system. These autoantibodies are immuno-biomarkers, which become elevated when lung cancer is present. Because these autoantibodies appear in the earliest stages of cancer, EarlyCDT-Lung can assist physicians in assessing a patient's lung cancer risk prior to the detection of a tumor. This critical information can be used to aid in the early diagnosis of lung cancer, even before a patient begins displaying specific symptoms of the disease.
Stroke Detection Plus is a widely respected provider of stroke risk assessment screenings. Headquartered in Des Moines, Iowa, Stroke Detection Plus is a mobile vascular screening company providing ultrasound-based screenings for stroke risk and osteoporosis symptoms. With seven mobile teams administering private and corporate screenings throughout the Southeast and Midwest, Stroke Detection Plus has helped thousands of patients gain control of their health and avoid serious medical complications. Each mobile unit is equipped to screen patients for carotid and aortic blockages as well as Peripheral Arterial Disease (PAD) and osteoporosis. Stroke Detection Plus provides fast and affordable screenings to their growing community of patients.
In May of this year Oncimmune teamed up with Stroke Detection Plus for a pilot program in which SDP included EarlyCDT-Lung as part of their test offerings. EarlyCDT-Lung tests were ordered by a physician for those at high risk for lung cancer, based upon smoking habits, family history, and exposure to known carcinogens. A physician then reported results back to each patient. The partnership proved to be a success, and SDP is now offering EarlyCDT-Lung to high risk clients in the 15 states in which they operate.
"We are excited to partner with Stroke Detection Plus," said Dan Calvo, President and CEO of Oncimmune. "We are encouraged that together Oncimmune and SDP will reach more people and provide them an opportunity to gain information that could positively impact their health."
"The partnership between Stroke Detection Plus and Oncimmune brings cutting edge technology to rural areas which are typically medically underserved. Given that a vast majority of our clientele are smokers or ex-smokers, we are very excited to bring this valuable test to our high risk group." commented Scott McGlothlen, President of Stroke Detection Plus®.
As both companies take strides to develop and advance health risk assessment technologies, SDP and Oncimmune are doing their part to revolutionize medicine. Stay tuned for more exciting developments to come from both companies as they continue to pursue new and innovative medical technologies.
About Oncimmune (USA) LLC
Oncimmune (USA) LLC, founded in 2006, is an industry leader in early cancer detection. The company is committed to advancing early cancer detection through proprietary immuno-biomarker technologies based on biological technology identified by John Robertson, M.D., Professor of Surgery at Nottingham University, England, and Chief Scientific Officer of Oncimmune LTD. Ongoing research and development is conducted by Oncimmune under the direction of Professor Robertson. The company's mission is to develop early cancer detection tests to identify more than 90% of solid-tumor cancers, which make up 70% of all cancers including lung, breast, colorectal, prostate, stomach, pancreatic and ovarian. All testing is performed exclusively at Oncimmune's CLIA (Clinical Laboratory Improvement Act) regulated laboratory located in the metro Kansas City area. Oncimmune (USA) LLC is a wholly owned subsidiary of Oncimmune LTD. Oncimmune LTD owns a portfolio of patents, including Patent Nos. 7,402,403 and 7,205,117, with five others currently filed and under review. For more information about Oncimmune, visit: http://www.hellohaveyouheard.com.
About Stroke Detection Plus®
Founded in 2003, Stroke Detection Plus offers community outreach and corporate wellness programs providing stroke, vascular and health tests to individuals throughout the Midwestern and Southeastern United States. Stroke Detection Plus has since forged relationships with many hospitals and clinics, pharmacies, schools, banks and corporations to make their service available to those who need it most. Through a commitment to outstanding customer care and a passion for the services they provide, the Stroke Detection Plus team is touching and saving lives every day. To learn more about Stroke Detection plus visit: http://www.strokedetectionplus.com.
###