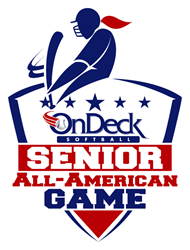 We want every young player to dream of one day becoming an OnDeck Softball All-American
Los Angeles, CA (PRWEB) June 03, 2015
OnDeck Softball's Senior All American Game (SAAG) will feature 36 of the best High School senior softball players from across the country and will take place in the Summer of 2016 in Southern California.
A player can be nominated by a high school or travel ball coach or by a member of the SAAG Selection Committee from a tournament or an OnDeck Softball event. The selection process will consist of five stages and selected players from each stage will be posted until the final rosters are set. Eighteen players will be selected for each team, one representing California and the other representing the rest of the United States. The teams will be announced June 2016.
"The OnDeck Softball Senior All-American Game will help move softball forward and to a new level" said Joann Allister, president of OnDeck Softball, Inc. "We want every young player to dream of one day becoming an OnDeck Softball All-American."
"Since our inception, we have felt softball needed a Senior All-American game, and this game will allow the sport to showcase collegiate stars of tomorrow." Derek Allister, co-founder of OnDeck Softball. "We have always believed that the greatest rivalry in the game of softball exists between California and the rest of the country. This game is a natural, and it will be exciting to see these great players compete against one another."
For more information visit: http://www.odallamerican.com
About OnDeck Softball:
OnDeck Softball is the leader in softball recruiting and player evaluations. In the last 13 years, OnDeck Softball has been an innovative factor in player evaluations and recruiting events. To learn more visit http://www.ondecksoftball.net