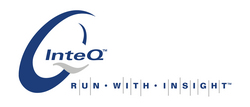 We are extremely excited to welcome Brad to our team. His adept knowledge of launching solutions in the marketplace and customer focus will be invaluable to InteQ as we emerge into the fast growing SaaS market
Bedford, MA (PRWEB) September 30, 2008
Leading on demand IT service management solutions provider, InteQ, today announced the appointment of Bradford Winkler as Vice President of Sales and Marketing, SaaS Solutions. This position was created to capitalize the market demand for InteQ's on-demand service desk solution, InfraDesk, conceptualized by the successful implementations experienced by their current clients.
Winkler joins InteQ with over 20 years of experience directly related to bringing new technologies to market through focused strategy and execution. He has made notable contributions to companies through their early stage, growth, profitability, and then acquisition. Prior to InteQ he was the Vice President of Sales and Marketing at Inceptor, a search engine marketing company. After enjoying years of success, the company was acquired by Verizon. Winkler became part of the group that then divested out of Verizon becoming Idearc Media, a now publicly traded media company.
As Vice President of Sales & Marketing for InteQ's SaaS Solutions, Winkler will be responsible for launching InfraDesk, an on-demand service desk solution, to enterprise markets and obtain leadership position in the SaaS market. In this capacity, he will also focus on streamlining the company's product and service offerings to focus on core competencies to develop a consistent brand message across the entire portfolio.
"We are extremely excited to welcome Brad to our team. His adept knowledge of launching solutions in the marketplace and customer focus will be invaluable to InteQ as we emerge into the fast growing SaaS market," said Santhana Krishnan, Chairman and CEO, InteQ Corporation. "I look forward to working with him to strategically expand InteQ's footprint within this market and generate positive industry acceptance of our on demand service desk solution - InfraDesk."
"It's an exciting time to join a company who has recognized the emergence and demand for SaaS platforms," said Winkler. "I look forward to working with the entire InteQ team to expand their reach within this growing market and ultimately elevate their position within the SaaS software market."
InfraDesk - an On Demand Service Desk Solution
InfraDesk is an On Demand Service Desk application delivered as a service over the web based on InteQ's unique ITIL process automation approach. The simple and robust enterprise service desk solution provides the foundation for IT organizations Service Delivery and Operations to ultimately support overall Service Strategy. Through its Software as a Service (SaaS) delivery model, InfraDesk enables large organizations to eliminate costly maintenance upgrades and lengthy implementation cycles commonly associated with traditional software models while providing the affordability to small and medium-sized organizations without sacrificing functionality or flexibility.
About InteQ
Founded in 1995, InteQ is a leader in on demand IT Service Management (ITSM), providing a comprehensive suite of managed services, an on-demand service desk solution, and award-winning training and consulting in ITIL - the IT Infrastructure Library. InteQ's on demand solutions have been successfully implemented in over 90 countries through its global service delivery model with operations in the United States and India. For more information, visit http://www.inteqnet.com/index.html or contact 888.4IT.MGMT.
InteQ Corporation, InteQ and the InteQ logo are registered trademarks of InteQ Corporation. All other product and company names mentioned are used for identification purposes only and may be property of their respective owners.
###