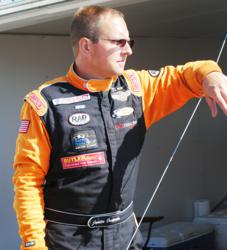 I am equally excited about the potential to drive for TruSpeed, being on the same team with the likes of GT Champion Patrick Long is tremendous. I am really looking forward to the opportunity.
Nazareth, PA (PRWEB) November 06, 2012
Onderko Motorsports has announced plans to participate in the Pirelli World Challenge Series in 2013. The PWC is a support series to the IZOD Indy Car Series and the American Le Mans Series.
The Onderko Motorsports Team has begun talks with California based TruSpeed Motorsports. Team owner Michael Onderko commented, "We are currently courting several potential motorsports partners and we are in the closing stages of signing one. We have been in touch with TruSpeed Motorsports, the PWC GT Series Champion in 2011. We have talked through their program with Tyler Tadevic, the team's General Manager." Onderko noted, "TruSpeed has a tremendous amount of opportunities in PWC with a very flexible program. The main reason we are looking at TruSpeed is 1) their motorsports program and 2) their marketing capabilities. Two key components we need in the Onderko Motorsports to support our motorsports partners."
TruSpeed's founders, Rob and Charles Morgan, have raced in hundreds of professional sports car races. These races include the historical Rolex 24 Hours of Daytona where they won the GTS-1 Category in 1996, finished 2nd place overall in 1997 and finished 2nd place in class in 2003.
The Morgans have owned two NASCAR teams and have raced everything from a Datsun 240Z, Chevy pickup trucks in the NASCAR Craftsman Truck Series to Porsche's in Pirelli GT World Challenge.
Justin Onderko, driver for the team, talked about how close the team is in signing their 2013 motorsports partners. "I spent several hours on the phone with the World Wide Distribution Director for one of our potential motorsports partners and found out a tremendous amount about their product – the product is revolutionary and has tremendous potential. I really hope we can come to an agreement with them. I would love to be the brand ambassador for this product." Justin continued, "I am equally excited about the potential to drive for TruSpeed, being on the same team with the likes of GT Champion Patrick Long is tremendous. I am really looking forward to the opportunity." The Onderko Motorsports Driver continued, "We have also seen the need to become a marketing organization in addition to becoming a race winning motorsports team. We have built a network of various media and business contacts that could be used by companies who see the value in this form of marketing and becoming a partner with us. We want to establish long term business relationships with our partners."
Team owner Mike Onderko made a special note of mentioning the OC2Interactive will again be on board for the 2013 racing season.
About Onderko Motorsports –
Onderko Motorsports, LLC is a professional race team based in Nazareth, PA. It was developed in 2009 and in 2010 won the SVS Asphalt Late Model Championship. The Onderko Motorsports organization plays a major role in the Race Against Drugs program promoting a drug free and healthy lifestyle. Race Against Drugs, along with the Stay on Track program are part of the National Center for Research and Prevention Solutions initiatives to foster and help our nation's children fight against drugs by providing them positive role models to look up to. Justin Onderko was awarded the 2011 Spokesperson of the Year Award at the Performance Racing Industry Trade Show in Orlando, FL.
Onderko Motorsports provides valuable and unique marketing opportunities for its partners by branding their name with a winning race team and a positive role model for our nation's children.
For more information on Onderko Motorsports and the marketing/branding opportunities they can provide please contact them at onderko_motorsports(at)verizon(dot)net.
About OC2interactive web solutions –
Founded in 2010, with offices in the United States, Mexico, and Asia, OC2interactive is dedicated to providing small and medium-size businesses with on-time, in-budget delivery of innovative web solutions, together with the support required to get the job done to the full satisfaction of its customers. These solutions may be as simple as a creative website for a new business, or as complex as white label design and support for several businesses simultaneously. Whether you are a sole proprietor or owner of a business with hundreds of employees, OC2 will treat you as an intimate partner–one of the design team– from start to finish. The mission of OC2interactive can be summed up in its motto: "When you absolutely, positively need to have it done right, on-time, and in-budget."