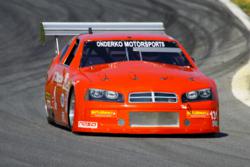 This program is set up and priced for the small to mid-size business owner to take full advantage of ...
Nazareth, PA (PRWEB) February 28, 2013
The Onderko Motorsports race team has come up with a revolutionary concept to help the small and mid-size business use the lure of motorsports to help market and brand their products with a winning race team while realizing these benefits for the entire 2013 race season.
Michael Onderko, Team Owner of the Nazareth, PA based race team commented on the new approach, "We are constantly looking for partners for our race team and each time we approach a business we hear the same story '…we don't have the funds to sponsor a race car for the whole season...' so my team has been hard at work trying to come up with a way to help businesses market their products and still use racing as the lure. This project has been on the table for several months now and I think we are finally able to launch it. The program will deal with our regional racing efforts and the thought behind it is to have businesses sponsor a portion of our "2013 Road Race Car" that will enable them to have their name on our car all year long. This comes at a reduced cost, yet the marketing potential is the same. They will have access to our worldwide press releases, pictures and video of the car to use in their marketing, our website, Facebook and Twitter efforts, but most importantly, they will have their business name on our race car all year long."
The team owner continued, "We will have a price structure for our regional race cars. Each pricing plan will include the business name on the car, business name on the driver's suit. This way based on monies available, businesses can pick and choose their level of involvement while still being able to capitalize on racing as a marketing tool. A special incentive for the business that sponsor's our engine package will be their name on the hood of the car which is prime marketing space. Businesses can sponsor tires, fuel system, shocks, etc. each component will have its own price structure and name placement on the car. "
When asked how the pricing structure will be set up Onderko commented, "Let's say the business who sponsors our engine package will have the whole hood as space to but their business name as opposed to the business who let's say sponsors our right front wheel and shock package, that business will get their name above the right front wheel. The exposure will be consummate with their level of involvement. The same idea with our drivers racing suit, the business that sponsors that engine package will get a spot on the chest of that suit, while the business that sponsored the right front wheel and shock package may get an arm or collar of the same suit. We think this is a real way to bring in small and mid-size businesses based on their tight budget restrictions. Just because they don't have 7 figure budget numbers, shouldn't mean that they have to miss out on the excellent benefits we off our bigger partners. This program is set up and priced for the small to mid-size business owner to take full advantage of and also the marketing capabilities we can offer."
Businesses interested in more information on this program and other marketing and branding opportunities the Onderko Motorsports race team has to offer are encouraged to contact Onderko Motorsports at onderko_motorsports(at)verizon(dot)net.
About Onderko Motorsports –
Onderko Motorsports, LLC is a professional race team based in Nazareth, PA. It was developed in 2009 and in 2010 won the SVS Asphalt Late Model Championship, in 2012 won the NASA Northeast and Mid-Atlantic Pro Challenge/Performance Touring A Championships.
The Onderko Motorsports organization plays a major role in the Race Against Drugs program promoting a drug free and healthy lifestyle. Race Against Drugs, along with the Stay on Track program are part of the National Center for Research and Prevention Solutions initiatives to foster and help our nation's children fight against drugs by providing them positive role models to look up to. Justin Onderko was awarded the 2011 Spokesperson of the Year Award at the Performance Racing Industry Trade Show in Orlando, FL.
In 2012 Onderko Motorsports partnered with The Motorsports Rehabilitation Foundation which helps injured drivers.
Onderko Motorsports provides innovative, valuable and proven marketing opportunities for its partners by branding their name with a winning race team and a positive role model for our nation's children and young adults.
For more information contact Onderko Motorsports at onderko_motorsports(at)verizon(dot)net