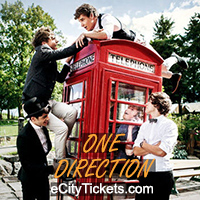 Fans should lock in the best One Direction Tour tickets now at eCityTickets.com for VIP and Fan Packages.
(PRWEB) May 18, 2013
One Direction Tickets have been a hot item since 2011, when the pop boy band burst on the scene in the U.K. with the number one hit, "What Makes You Beautiful." Their first summer tour of the United States took place last year and was wildly successful. This year the "Take Me Home" tour is sure to be an even bigger event. Plus, the band just announced the 2014 "Where We Are" Stadium Tour. Fans can purchase tickets directly from eCityTickets.com by following this link: One Direction Tour Tickets.
The boys from the U.K. got their start on the British reality television show The X Factor in 2010. Shockingly, they did not win the competition, but Simon Cowell – of American Idol fame in the U.S. – saw promise in the young men. He signed One Direction to his record label, and the rest has been history.
One Direction only took a few months to make the jump to the American airwaves, and they made a huge splash when they did. In February 2012, they released "What Make You Beautiful" in the United States, and it sold more than 3 million units by itself. More than sales though, the response was feverish. One month later, nearly 15,000 new fans came to see them perform at Rockefeller Center during a broadcast of The Today Show. Not since the days of 'N Sync and the Backstreet Boys had a group of young men held so much attention in America.
And, the fever has not died down one bit. Their 2012 Up All Night Tour sold out nearly all its concert venues. So far, the 2013's Take Me Home Tour seems primed to be an even more desirable ticket. One Direction is coming off their second hit album, which lends its name to the summer tour, and there are already over 100 planned shows internationally. Tickets have been flying. In the U.K. and Ireland, ticket sales stretched above 300,000 sold in one day. But, don't worry because there are still many good seats available for their North American shows.
The modern "boy band," One Direction, is a musical quintet. Its members include Niall Horan, Zayn Malik, Liam Payne, Harry Styles, and Louis Tomlinson. They will be bringing their infectious pop songs all around the country this summer, and it all starts in Sunrise, Florida on June 13. They will hit over 25 destinations in the United States, including hot spots like Miami, Louisville, Atlanta, Philadelphia, Dallas, Kansas City, and Oakland. The grand finale of their North American leg will be a 4 night extravaganza at the Staples Center in Los Angeles on August 7-10. These are sure to be some incredible shows.
One Direction continues the Take Me Home Tour through Australia and Asia, but there are plenty of shows available to make sure that no fan misses out on a chance to see these 5 boys live and in-person. One Direction Tickets will be some of the hottest of the summer, but they can be purchased right this minute from eCity Tickets.