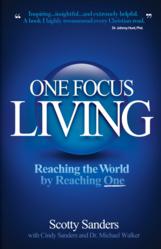 All church leaders need to become exposed to the revolutionary ONE Focus Initiative in an easily accessible, free venue.
Monroe, LA (PRWEB) July 20, 2011
Scotty Sanders' ONE Focus Living Boot Camp series, along with the upcoming launch of his "ONE Focus Living" book on July 29, 2011, is set to enliven churches as it begins its limited tour this summer beginning August 10.
The engaging, fast-track 100-minute sessions promises to bring pastors and other church leaders up to date with existing trends in evangelism with the goal towards reaching the world with the good news of Jesus Christ.
"When I see the response we have had with the ONE Focus Initiative in churches, I decided all church leaders needed to become exposed to this revolutionary concept in an easily accessible, free venue," says Sanders about this upcoming series of boot camps.
Apart from current evangelistic trends, boot camp participants will learn how to make their respective churches an ACTS army, as well as discover the top three reasons people are hesitant to share the gospel and the three important questions every church needs to answer. The boot camp will also share the best practices from Ritz Carlton, the No. 1 Guest Service provider in the world and the strategies of churches to engage 80% of their members in evangelism and increase baptisms by more than 50%.
Schedules for the ONE Focus Living Boot Camps are as follows: August 10, FBC Broken Arrow, Tulsa, Oklahoma; August 11, Lawrence Drive Baptist Church, Macon Georgia; August 17, FBC Fayetteville, Fayetteville, Georgia; August 18, FBC Mt. Olive, Birmingham, Alabama; August 25, Gateway Church (Southlake), Dallas, Texas; August 29, First West, Monroe, Louisiana; August 30, LA Baptist Building, Alexandria, Louisiana; August 31, FBC Denham Springs, Baton Rouge, Louisiana; and September 15, Journey Church, Denver, Colorado. All boot camps (except for the August 30 event in Alexandria, which begins at 1:30 p.m.) start at 10 a.m.
As a bonus, all participants who register in advance and attend in person will receive a free copy of Sanders' "ONE Focus Living" book.
Sanders will also be combining his media tour for his "ONE Focus Living" book with the Boot Camp tour. Inspired by the ONE Focus Initiative, "ONE Focus Living" focuses on the concept of "demonstrational evangelism," which helps enrich the life of one individual over a one-year period through acts of kinds, compassion and friendship. Written with much insight and humor, the book is filled with Scotty and wife Cindy's personal stories, lessons, Scripture and testimonies that will both inspire and move readers to focus on developing meaningful relationships with others as they deepen their relationship with Jesus Christ.
To register online for the boot camp and for more information about the ONE Focus Living Boot Camp series and the "ONE Focus Living" book, visit onefocusliving.com.
"ONE Focus Living" synopsis
"ONE Focus Living," by author and speaker Scotty Sanders – is designed to equip, inspire, and challenge you to fulfill God's plan by reaching out to others with the love of Jesus Christ. At its core, ONE Focus is demonstrational evangelism. It is choosing to show God's love to one individual, for one year, through acts of prayer, friendship, kindness, and compassion. onefocusliving.com
About the ONE Focus Initiative
ONE Focus is a one year, missional movement growing Christians into disciples and non-believers into Christians through a comprehensive initiative for the local church to fulfill the Great Commission. onefocus.com
About Scotty Sanders
Scotty Sanders has been leading organizations for over 30 years. Initially Scotty founded and served as CEO for a multi-million dollar business. For the next 20 years he served in executive and administrative pastor roles for two mega churches, including one of the largest churches per capita in the country. Scotty founded and serves as CEO of Life Catalyst Consulting and is the author of "ONE Focus Living." scottysanders.com
For more information
About the book: onefocusliving.com
About the initiative: onefocus.com
About the author: scottysanders.com
About the company: lifecatalystconsulting.com
ONE Focus videos: youtube.com/theonefocus
Facebook: facebook.com/scottysanders1
Twitter: twitter.com/thelifecatalyst
For interviews, contact: Cheryl Wicker, Premier1Studios(at)gmail(dot)com, (318) 325-3147
"Inspiring…insightful…and extremely helpful. A book I highly recommend every Christian to read." — Dr. Johnny M. Hunt, Woodstock First Baptist Church
###