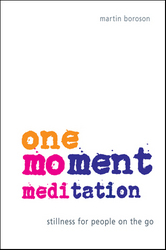 We think of a moment as so short, and therefore rather negligible, but your whole life can change in a moment.
New York, NY (PRWEB) December 2, 2009
With so many extra things to do—from shopping to entertaining to meeting end-of-year deadlines at work—many people find the holidays a time of great stress. For some people, the holidays are also a time of heightened emotional and financial strain.
Holiday stress can cause people to eat too much, drink too much, smoke too much, and sleep too little. It can have serious consequences for mental and physical health, and be very trying for even the closest relationships. And yet, precisely because people are so busy, few people find the time to deal with their stress wisely.
But Martin Boroson, author of One-Moment Meditation: Stillness for People on the Go, has devised five meditations that can help anyone—no matter how busy—reduce holiday stress quickly. In fact, they only take a moment.
"We think of a moment as so short, and therefore rather negligible," says Boroson, "but your whole life can change in a moment. In just a moment, you can unhook yourself from a negative thought, and stop yourself from walking down the wrong path. And everyone, no matter how busy, has at least one moment to spare."
Boroson has taught One-Moment Meditation® in unlikely places, including a cabaret, a train station, a farmyard, on the radio, and in corporate boardrooms. His playful, practical approach has helped thousands of people to get started meditating. Said Psychologies magazine, "It's hard to overestimate how useful this technique could be."
Boroson's book, published in eight languages, takes readers through a step by step training program, beginning with an exercise that takes just one minute a day. With practice, this exercise gets shorter and shorter, until it takes no time at all.
Here are Boroson's five mediations for holiday stress relief, adapted from his book:

Hit the Pause Button: "Think of stress as a sure signal that you really need to pause, and think of meditation as the pause button, " says Boroson. "As soon as you notice you're stressed, just stop what you're doing to breathe in and out once, deeply, focusing completely on your breath. The idea is to empty your mind of all concerns, if only for a moment—so you can come back to the next moment refreshed. You can do this many times throughout the day, chipping away at stress one moment at a time."
Find the Gaps: "No matter how busy your day is," says Boroson, "it includes many 'wasted' moments or 'gap' moments, like when you are standing in line to buy a gift, or standing in line to return one. Whenever you find a gap moment, before fiddling with your phone, or getting furious about your lost time, just grab a moment of meditation. This can make even the busiest day seem spacious. In other words, think of gap moments as opportunities: time found instead of time wasted."
Make a Meaningful Toast: Interrupting a holiday meal to make a toast, if done well, can create a wonderful moment of stillness and connection for everyone present. Boroson advises: "After raising your glass—having tapped it with a spoon if necessary—try to make eye contact with as many people as possible. Once everyone has stopped talking and is anticipating your toast, pause to enjoy this moment of stillness. Be patient. Then, only when you're ready, make your toast. Say something heartfelt, something that is true for you about this moment. This will help everyone relax, connect to themselves, and connect to one another more deeply."
Learn the Basic Minute: The Basic Minute is the core training exercise from Boroson's book, One-Moment Meditation, and it really does require just one minute per day. By learning this simple exercise now, anyone will be able to do it—and rely on it—when things get hectic. For free instructions, visit: http://www.onemomentmeditation.net.
Meditate in the Bathroom: Yes, this does work. When the stress gets too intense, and all else fails, just go to the bathroom, shut the door, sit on the toilet, and meditate. Boroson says, "We have to get past the idea that meditation is only possible in a beautiful monastery on top of a mountain. If the bathroom is really the only place to find a moment of peace and quiet—the only place to find some solitude—why not use it well? Clear your mind as well as your body."
Learn The Basic Minute at http://www.onemomentmeditation.net.
Get the book, One-Moment Meditation, from Amazon.com
Sign up here for occasional email tips and reminders to take a moment.
###