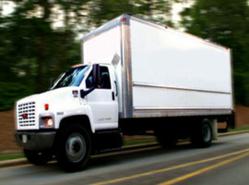 Eliminating the need to return vehicles back to the source
Saint Louis, MO (PRWEB) February 21, 2013
The principles of aggregation, competition, and group dynamics have always proven to be advantageous for both businesses and consumers. The concept now makes a move of its own. MovingTruckRental.com announced an enhanced network of local moving companies that would be able to offer significantly lower prices on one way truck rentals.
Due to expensive logistics associated with a one-way rental, until recently costs were much higher for individuals who wanted to hire a one way truck rental. Fortunately, MovingTruckRental.com, a venture initiated by an enterprising netpreneur, has found a solution to escalating prices. Calvin Davis, CEO of MovingTruckRental.com announced this morning that he has aggregated one of the largest network of local moving companies to create a consolidated body of moving companies.
While speaking to the press, Calvin made the following remarks: "Our biggest asset is the size of our network. We have a robust mix of a large variety of moving companies, each a leader within its own niche. Due to the sheer size of our network, we can help consumers receive free moving quotes from almost any truck rental within a matter of seconds. Our network of companies realizes that we are going to benefit them in many ways and at our request many moving companies have revised their offerings to offer substantial discounts on one way truck rentals. Moving companies understand that they can gain much more through the volume we generate are very receptive to the idea of offering discounts to our customers."
Davis explains that when a consumer requests one way truck rental quotes, multiple companies compete for the consumer's business and the end result is substantial savings for the end user. Fostering competition and driving innovation have always been the driving forces of capitalism. "We have leveraged the same principles to take the process a step further and generate significant savings for our customers," adds Davis.
"I recently utilized the free services offered by MovingTruckRental.com when I moved to New York. I must admit I was very apprehensive at first but I am so glad I went with them. The costs were much lower than what I found elsewhere and the service was absolutely terrific," says Adam, a customer of MovingTruckRental.com.
MovingTruckRental.com has been in business for over fifteen years. The company helps individuals connect with one way truck rental companies. Although the site is free, consumers can take advantage of many services that offered to customers. From free moving quotes to the latest updates in its knowledge base, the company is intent on helping consumers move from A-B in a seamless and cost-effective manner. Over the past ten years, MovingTruckRental.com has helped tens of thousands of customers.
In addition to the free services, MovingTruckRental.com also provides dedicated customer support through its army of moving experts.