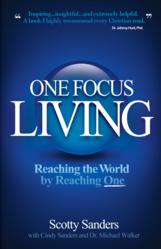 I felt like the people in the pews needed a tool to equip themselves for using their unique gifts and talents to touch lives as they go about their daily routines
Monroe, LA (PRWEB) June 15, 2011
Christian author, speaker and church consultant Scotty Sanders releases "ONE Focus Living," a book on "demonstrational evangelism," on July 29, 2011. Not your average read on evangelism, this book challenges believers to show God's love to one individual, for one year, through acts of prayer, friendship, kindness, and compassion.
The ONE Focus initiative was birthed five years ago at Sanders' home church of First Baptist Church of West Monroe. It radically transformed that church and launched a "missional movement" that has spread to over 60 churches nationwide.
While American churches average 2-4% involvement in evangelism from its regular attenders, Sanders' ONE Focus churches report that 84% of their church body make a spiritual commitment to evangelism. A vast majority of these churches will experience over a 50% increase in salvation and baptisms and will see a significant increase in worship attendance and small group participation as well.
"We are on pace to baptize more than any time in my pastorate, and most of them were led to Christ by members of the church and not the staff," reports Dr. Terry Bostick, senior pastor of First Baptist in Oxford, Alabama, after implementing the ONE Focus Initiative.
It was the success of the ONE Focus Initiative that spawned the "ONE Focus Living" book. "I felt like the people in the pews needed a tool to equip themselves for using their unique gifts and talents to touch lives as they go about their daily routines," states Sanders, who is now the CEO of the Dallas-based Life Catalyst Consulting, a church consultation ministry specializing in church leadership, hospitality and outreach. "I like the term 'life catalyst' since that is the focus of my life—striving to encourage and help others reach their God anointed potential," said Sanders. "And that's what 'ONE Focus Living' is all about."
Sanders has served in executive and administrative pastoral roles for over twenty years, including two mega churches. Prior to his surrender to ministry, his extensive experience in the business world includes serving as CEO for a multi-million dollar business. Sanders now carries over these success principals into his church consultation services. Sanders is also a sought after speaker and respected leader in personal evangelism, pastoral leadership and church outreach.
Sanders' wife, Cindy, and Dr. Michael Walker are also major contributors to the book. Cindy has served more than 20 years in the children's ministry, and has written for several children's publications in addition to Christian leadership magazines. Dr. Walker owned a very successful dental practice, until he later heeded the call of ministry. He now travels the world witnessing and providing dental care to those in need. Along with Sanders, Dr. Walker provides pastoral consulting and developed the ONE Focus Initiative.
Discounts are now available for those who pre-order "ONE Focus Living" online before July 29. There are also additional discounts offered on bulk orders.
Through his work with churches through Life Catalyst Consulting, the ONE Focus Initiative and "ONE Focus Living," Scotty Sanders is bringing relevance and effectiveness to today's church. For more information on Sanders' book, "ONE Focus Living," visit http://www.onefocusliving.com.
A press kit is available online at onefocusliving.com. Click on "Media Relations."
###