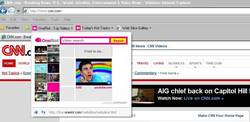 Staying on top of the real-time web - the stories and videos that people are buzzing about right now - is very simple with OneRiot Search Services and Web Slices
Las Vegas (Vocus) March 19, 2009
OneRiot, the real-time search engine that finds the pulse of the web, is unveiling today at MIX09 a dynamic new Web Slice, exclusively for Internet Explorer 8 (IE8), that finds the most popular videos from across the real-time web.
"Staying on top of the real-time web - the stories and videos that people are buzzing about right now - is very simple with OneRiot Search Services and Web Slices," said Tobias Peggs, general manager of OneRiot. "Internet Explorer 8 is the perfect platform to consume search results from the real-time web."
OneRiot Search will be featured by Dean Hachamovitch, general manager for Internet Explorer at Microsoft Corp. (MSFT), during his Keynote Address at MIX09.
The OneRiot Real-Time Video Search Web Slice was built in conjunction with Stimulant.io, an innovative user interface design house based in San Francisco. The Web Slice uses Silverlight and the new OneRiot Search API, demonstrating the possibility for extremely rich applications within IE8 Web Slices.
The OneRiot Real-Time Video Search Web Slice allows anyone with IE8 to easily search for the best new videos from across the web. Web Slices have a persistent presence on the browser. When new videos become available, as OneRiot's index of the social web updates in real-time, the user is notified immediately within the Web Slice. One click on the image preview within the Web Slice will open the video web page - whether that is on YouTube, Hulu, CNN, MetaCafe, ESPN or others.
The OneRiot Real-Time Video Search Web Slice is featured in a special IE8 bundle for MIX09 attendees and is available immediately for free download in the IE8 Add-On Gallery:
http://ieaddons.com/en/details/photosvideos/TOP_VIDEOS_RIGHT_NOW_by_OneRiot/
OneRiot also has a Hot Topics Web Slice that can be downloaded for free here: http://www.ieaddons.com/en/details/social/TODAYS_HOT_TOPICS_by_OneRiot
About OneRiot
Launched in November 2008, OneRiot is a real-time search engine that that finds the pulse of the web. Thanks to the constant help of more than two million users, OneRiot makes it easy for anyone to find the news and videos that people are talking about right now. Unlike any other search engine, OneRiot prioritizes web pages based on its current popularity with real people. OneRiot delivers search results that are fresh, friendly, and pulsing with the real-time energy of the web.
OneRiot is a privately held company headquartered in Boulder, Colo. with offices in San Francisco. To keep up to date on announcements and hot topics from OneRiot, follow via Twitter at http://twitter.com/oneriot.
Contact:
Courtney Walsh
Director of PR, OneRiot
303.938.3054
cwalsh (at) oneriot (dot) com
# # #