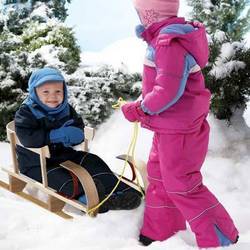 With the Cozy Cub Collection, we've just taken their feedback to the next level.
(Vocus) October 18, 2007
Chelsea & Scott, Ltd.—creator of the award-winning One Step Ahead and Leaps and Bounds catalogs—has introduced its new Cozy Cub Collection, an exclusive line of children's winterwear.
What's unique about Cozy Cub is that Chelsea & Scott's in-house design team created the collection not just according to fashion, but based on parents' real-life suggestions and requests.
"Winter dressing is a big challenge for parents," says President Karen Scott. "They worry that their kids are uncomfortable and over-bundled. And they dread wrestling with snowsuits and boots."
The Cozy Cub collection is designed around parents' four top concerns: comfort, warmth without bulk, quality, and ease of dressing.
For example, traditional snowsuits are so puffy and confining, little ones can barely move, let alone frolic in the snow.
That's why Cozy Cub features slim, high-tech Thermolite® insulation, which provides "warmth and wiggle room," without bulk. Other parent-requested details include soft, premium fleece linings, built-in mitten clips, and high-visibility reflective piping.
And all the pieces are coordinated for easy mix-and-match dressing—a priority for busy, time-pressed parents.
According to Scott, the top-sellers in the collection are expected to be:

The 3-in-1 System Jacket – With a weather-resistant outer layer and zip-off fleece liner, it allows parents to layer up or down to meet the day's forecast.
Convertible Down Jacket – Many parents expressed a preference for natural down. This down jacket is not only reversible, but has zip-off sleeves to convert to a vest.
Grow-with-Me Snow Pants – Parents universally loathe snow pants that wear out mid-season. Hence, these rough, rugged pants with reinforced inseams and knees, plus a double hem for winter growth spurts. (Just snip the holding stitch for an extra inch of length.)
Easy-on Snow Boots – Parents #1 pet peeve: going to the mat with stiff, unyielding boots. These tussle-proof boots open so wide, many kids can put them on without help. With quick hook 'n loop bindings and an odor-fighting, anti-microbial lining.
Cozy Cub Long Johns – Kids are more likely to put on long johns willingly if you make them comfy and fun. These colorfully striped, two-piece long johns are made of soft, stretchy, 100% cotton.
In addition, the Cozy Cub collection includes coordinating hats and mittens, stroller snugglies, and infant buntings.
"We've always made it a priority to listen to our customers," says Scott. "With the Cozy Cub Collection, we've just taken their feedback to the next level."
About Chelsea & Scott
Chelsea & Scott Ltd, parent company of One Step Ahead and Leaps and Bounds, specializes in high-quality, hard-to-find products for babies and children. Founded by two parents who wanted the best for their own children, Chelsea & Scott rigorously pre-tests its products and also designs many unique toys and parenting solutions.
For more information, contact:
Cathy Liginski
847-615-2110 x4571
cliginski @ onestepahead.com
http://www.onestepahead.com
# # #