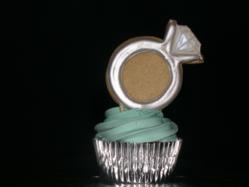 "Customized wedding favors are a sweet way to convey a message to guests."
New York, NY (PRWEB) February 29, 2012
The venue, the flowers and the dress – of course, the dress, have been chosen. But, still puzzled about which route to go with wedding favors? Hailed as the Prada of pastry, Gail Dosik, THE Tough Cookie of One Tough Cookie (http://www.onetoughcookienyc.com) offers unique ideas for customized edible wedding favors:
Traditional – Having a traditional affair? A cookie portraying the bride's dress, bouquet or engagement ring can be a sweet reminder of the wedding's most memorable elements.
Outdoors – With warm weather comes beautiful outdoor weddings. Is it a beach, garden or backyard venue? Create a cookie to commemorate highlights of the carefully chosen location with a sunset, flower or butterfly cookie.
Passion/Hobby – Do the new Mr. and Mrs. share a passion or a unique hobby? For couples that are animal lovers, a cookie that's a rendition of their pet can pay tribute to a furry best friend. For the bride and groom who are music buffs, bring out guests' inner rocker with a guitar cookie topped cupcake.
Destination – Send guests home with a delicious reminder of where the wedding took place. For a wedding taking place at a vineyard, give wine bottle cookies with the bride and groom's name as the favor.
"Customized wedding favors are a sweet way to convey a message to guests," says Dosik. "Whether the favor expresses the wedding theme or an important aspect of the bride and groom's life, giving guests a personal favor ensures that your wedding will be remembered for years to come."
One Tough Cookie's cookies are shipped nationwide. To place an order, or find out more, contact Gail Dosik at http://onetoughcookienyc.com/contact/
---
More about Gail Dosik and One Tough Cookie:
One Tough Cookie (http://www.onetoughcookienyc.com), the Prada of pastry, creates hand-decorated cookies, cakes and cupcakes that will capture your style and your taste buds. Through word-of-mouth and a loyal customer base that is quickly growing, One Tough Cookie's delectable treats are sought after by New Yorkers, celebrities, and news personalities.
Founded by Gail Dosik (known as 'THE Tough Cookie'), One Tough Cookie dishes up confectionery artistry rooted in fashion. Dosik spent 20 years at NYC fashion houses before opening her boutique bakery doors. Studying at the French Culinary Institute ensures that her pastry portraits taste as good as they look.
###