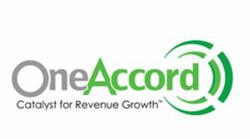 Each of these extraordinary individuals brings an exceptional amount of knowledge and insight to our team, talents which we are eager to make available to our valued customers.
Bellevue, Wash. (PRWEB) January 17, 2012
OneAccord, a leading provider of corporate revenue review and interim management solutions, is proud to announce the induction of six new Principals to their team of prominent business leaders. A unique assemblage of talented, successful innovators; each of the new team members were individually selected to join the revered team of OneAccord Principals.
Founded in 2005 OneAccord has since worked with hundreds of for and non-profit organizations to solve revenue challenges and provide marketing strategy. OneAccord is a community of former CEO's and business owners offering insight and guidance to corporations across a multitude of verticals. The OneAccord approach is a proven catalyst for revenue growth; changing the trajectory of each and every company with whom they partner.
Each of the six new OneAccord Principals brings a myriad of experience and knowledge to the team. Each Principal has an astute understanding of the complexities of their individual industries and a passion for business development. The new team members include: Frank White, Mark Taylor, Vince Sheeran, Tom Scott, Wayne Pignolet and Rhonda Handke.
Frank White began his decorated career in the banking industry in the mid 1970's, during which time he led an independent bank to become widely regarded as a premier financial institution. Mr. White later founded Mutliplex Technology Inc., a venture based cable television hardware start up which he sold in 1998. Prior to joining the OneAccord Team, Frank served as Vice President of Sales and Marketing at AMX, where he helped to increase sales more than two fold.
Mark Taylor has enjoyed a remarkable 30 year career, leading multinational manufacturing and technology companies through profitable transitions. Leveraging his expertise, Mr. Taylor has helped blue chip and Fortune 200 companies reach 20-fold increases in new-product. Before joining OneAccord, Mr. Taylor served as CEO of RTS Wright Industries, a manufacturer of high-tech automated manufacturing systems.
Vince Sheeran is a highly respected business executive with more than 29 years of experience in software and business services. During his career, Mr. Sheeran has served as COO, CEO and Board Member at several highly successful technology companies. Mr. Sheeran most recently served as COO and Director of VeriComply.
Tom Scott has enjoyed a successful 35 year career in profit and loss and broad leadership. Having worked with startups and fortune 500 companies alike, Mr. Scott has an extensive range of experience in identifying key market segments, managing change and building highly successful teams. Mr. Scott served as General Manager of the Computer Systems Division at Thoshiba in the early 1990's, during which time he increased revenue from $1.5 billion to $3.5 billion. Most recently, Mr. Scott served as SEO of Sentia Group Inc., a high end services company specializing in DOD and intelligence.
Wayne Pignolet began his inspiring career working for a $1 billion manufacturer of building parts as well as a $180 million publishing corporation. Mr. Pignolet has spent the past 10 years serving as a CEO. During this time Mr. Pignolet has worked with startups and turnaround companies helping enhancing all areas of business operations; from strategic planning to process development and branding.
Rhonda Handke has had a remarkable 25 year career leading organizations in marketing, sales, purchasing and general operations. Mrs. Handke began her career in market research and quickly moved into a sales role. Among her achievements Mrs. Handke overhauled a telecom supply chain company from a distribution model to outsourcing, increasing annual revenue from $50 million to $700 million. Most recently Mrs. Handke has worked in for profit education growing revenue 27%.
"We are proud to introduce this talented group of business leaders into the OneAccord family," said Jeff Rogers, Chairman and CEO of OneAccord. "Each of these extraordinary individuals brings an exceptional amount of knowledge and insight to our team, talents which we are eager to make available to our valued customers."
Look for more exciting announcements out of OneAccord in the coming months, as they work to expand their business and continue to develop their team of talented Principals.
About OneAccord
OneAccord Partners was founded in 2005 to provide clients with practical solutions for revenue generation using a hands-on approach. With experience in a wide range of industries, OneAccord helps clients generate revenue at all stages of their business cycle. Visit http://www.oneaccordpartners.com to learn more. For more information about this release or OneAccord, call 425.646.2800.
###