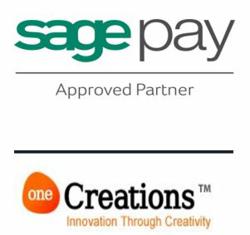 Our services are specifically designed for businesses looking for a next level website or ecommerce solution.
Hoddesdon, Hertfordshire (PRWEB) July 18, 2012
Officials with a local design company, One Creations, announced today it has added an additional payment gateway to its list of top-of-the-line website and Magento ecommerce solutions.
"We're now a Sage Pay (UK's payment gateway provider) channel," said Nick Trinnaman, marketing manager of One Creations, a web design and development company that uses Drupal and Joomla open source platforms with Magento ecommerce solutions.
One Creations is now an approved Sage Pay partner. Tinnaman explained that Sage Pay offers a complete line of payment processing solutions. Those services and solutions include credit and debit card processing, mobile payments, check processing, gift cards, and more.
As the only Magento accredited partner in Hertfordshire County in the UK, Trinnaman stressed that One Creations ( OneCreations.co.uk) is making a commitment to helping businesses reach the next level.
"Integration of your payment data will have an immediate impact on your bottom line and operational efficiency," Trinnaman said. "Sage Pay allows you to get paid faster and reduce internal processing costs by 15.9 percent, eliminate manual data entry increasing accounting accuracy and employee productivity."
Trinnaman noted that One Creations' Magento ecommerce platforms will work well with Sage Pay and will continue to provide the scalability, flexibility and features for business growth.
"Our services are specifically designed for businesses looking for a next level website or ecommerce solution," Trinnaman noted, before adding, "Our model is customer focused, but with an affordable price tag."
The advantage of adding of Sage Pay, Trinnaman said, is that it provides complete debit and credit card processing for all business types.
"It offers a full range of payment solutions for nonprofit organizations to businesses of any size," Trinnaman said. "So whether you accept payments or donations in person, remotely, or both, it has a payment solution to fit your needs.
For more information about One Creations, please visit: http://www.onecreations.co.uk
About the company
For more than six years, One Creations Limited has offered web design and SEO services in Hertfordshire and throughout the UK.
The company specializes in web design, e-commerce, search engine optimization, customized software development, and is experts in both Microsoft and Open Sources platforms.
One Creations primary focus is to provide its customers with a first-class service without compromising on quality for affordable prices. It works to maintain high service standards, from start to finish of its design, development, and ongoing support.