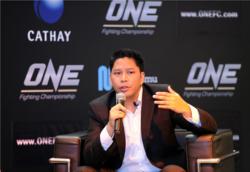 "The ESPN deal will enable a completely new audience to fall in love with the fastest growing sport on the planet"
- Jason Chambers
Fort Lauderdale, FL (PRWEB) April 30, 2012
Apex Sports Agency (ASA) today announced that a partnership with top Asian fight organization ONE Fighting Championship (ONE FC) has been agreed to. With this pact, ASA will now exclusively handle all North American sponsorship and media negotiations for ONE FC.
Mixed Martial Arts is taking the world by storm and ONE FC is leading the way in Asia. They recently consummated an unprecedented ten-year deal with ESPN STAR Sports, the number one leader in sports content, which will bring ONE FC content to 500 million homes across 24 countries in Asia. Now, ONE FC and ASA have joined forces.
CEO and Owner of ONE Fighting Championship Mr. Victor Cui said, "ONE Fighting Championship has completely changed the game for the sport of MMA in Asia, a region that has been the birthplace and home to martial arts for the last 5,000 years. This is a result of the synergistic efforts and outstanding support from our partners. We are the biggest and best MMA organization in Asia because we work with only the best fighters, promotions, gyms, sponsors, and media companies. I am happy to be working with another world-class agency in ASA as we expand our reach to work with new sponsors and partners."
"Though less than a year old, ONE FC has done some amazing things already in the sport of MMA," explained ASA CEO Jason Chambers. "The ESPN deal will enable a completely new audience to fall in love with the fastest growing sport on the planet. With the tremendous growth they're experiencing, it's only natural that they want to expand their presence here in North America. ASA can help ONE FC achieve that, and that is our goal."
ONE Fighting Championship is Asia's largest mixed martial arts event. While ONE FC is dedicated to featuring the best Asian fighters in the world, the promotion also aims to reach the North American fight faithful as well. Events thus far have featured well-known fighters such as Phil Baroni, Tatsuya Kawajiri, Melvin Manhoef, Yoshiyuki Yoshida, Andy Wang, Rolles Gracie, and Bob Sapp, while also introducing talented combatants such as Zorobabel Moreira, Ole Laursen, Fabricio Monteiro, and rising star Eduard Folayang.
ASA has quickly garnered a strong reputation in the MMA world, working with stars on the rise such as UFC fighters Chris Clements, Clifford Starks, Carlo Prater, and Matt Lucas, as well as established fighters like Karo Parisyan, Lyle "Fancy Pants" Beerbohm, Drew Fickett, Jorge Gurgel, and Zoila Gurgel. However, ASA is more than just another management firm. The company offers a wide array of services, including brand-building. The partnership with ONE FC came about as a result, and proves that ASA is a company to keep an eye on.
For more information on ONE FC, please visit http://www.ONEFC.com/. ONE FC can also be on Facebook at https://www.facebook.com/ONEFCMMA, and on Twitter @ONEFCMMA.
For more information on Apex Sports Agency, please visit http://www.ApexSportsAgency.com/. ASA can also be found on Twitter @ApexSportAgency.
About ONE Fighting Championship
Headquartered in Singapore, ONE Fighting Championship (http://www.onefc.com) is Asia's largest mixed martial arts organization. ONE Fighting Championship hosts the best Asian mixed martial artists and world champions on the largest media broadcast in Asia. ONE Fighting Championship has partnered with ESPN STAR Sports, the number one leader in sports content, for an unprecedented 10-year cable television deal with a coverage that spans across 24 countries in Asia.
About Apex Sports Agency
Apex Sports Agency is a full service sports agency dedicated to providing its athletes with the best sponsorship and event opportunities available. Founded in 2011, ASA has quickly risen up the ranks, garnering a reputation for its results-driven yet ethical approach to management. The ASA stable of fighters includes UFC fighters Clifford Starks, Chris Clements, Carlo Prater, and Matt Lucas, Bellator Champion Zoila Gurgel, UFC/Strikeforce veteran Jorge Gurgel, former UFC welterweight contender Karo Parisyan, UFC vet Drew Fickett, and rising prospects Chris Gruetzemacher, Alberto Mina, John Fraser, Rosen Dimitrov, and Rumen Dimitrov.