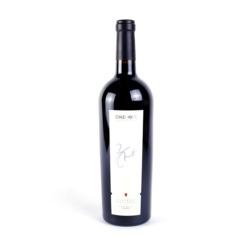 Every bottle purchased supports therapeutic services for children with multiple disabilities being served by Pattison's Academy.
Los Angeles, CA (PRWEB) December 04, 2012
ONEHOPE Wine – the social enterprise that integrates causes and impact into every business it touches – announced today the launch of their Signature Series, an exclusive wine program that was created to give influencers a platform to make a positive impact. For each Signature Series, ONEHOPE Wine selectively chooses participants who fit their passion and mission to serve a greater good. The first Signature Series will feature Darius Rucker, top recording country artist known for his hit single, "Come Back Song," and his current Top 10 single, "This."
"For this Signature Series, every bottle purchased supports Pattison's Academy - an organization improving the quality of life for children with multiple disabilities by providing comprehensive education and rehabilitation programs," stated Melissa Levick, Executive Director of the ONEHOPE Foundation.
This exclusive ONEHOPE Signature Series is handcrafted in partnership with winemaker Rob Mondavi Jr. The grapes were sourced from select vineyards throughout Rutherford, Dry Creek, and northeastern Napa Valley. Dark ruby in color, this Cabernet Sauvignon fills the palate with flavors of dark berries and cassis, and crème brûlée in the toast. Aged in American and French oak, complex layers of spice are balanced by soft tannins and a long velvety finish. Each bottle has Darius Rucker's signature featured on the front of the bottle. One bottle is $60 or you can select a custom made wooden box with 3 bottles for $180 with half of profits donated to Pattison's Academy. Visit us at ONEHOPE Wine to purchase.
"Thank you for helping ONEHOPE and me support Pattison's Academy - an organization that is very close to my heart. It is important to me to help ensure a better life for children, which is why I have been a strong supporter of Pattison's P.A.C.E charter school since its doors first opened. It provides a comprehensive education program that integrates educational curricula with functional rehabilitation instruction to maximize the potential and well-being for children with multiple disabilities," said Darius Rucker.
For each Signature Series, the selected influencers play an integral role in helping to develop the product from start to finish. The end result is a mutual commitment between ONEHOPE and the featured influencer to join together and raise awareness for a great cause through a quality product. Additional participating influencers and celebrities will be announced in 2013.
ONEHOPE Wine is a subsidiary of ONEHOPE Inc.
About ONEHOPE Inc.:
ONEHOPE Inc. is a social enterprise that integrates causes and impact into every business it touches. ONEHOPE has been able to expand their business and foundation due to their success with their cornerstone product ONEHOPE Wine, of which half of the profits go to a different cause for each varietal of wine sold. Since launching into the wine industry 5 years ago, ONEHOPE has developed additional products, brands and platforms including - Hope at Home™, ONEHOPE Weddings, Craft1933, and their newest addition - ONEHOPE Coffee and Tea. ONEHOPE Inc. is headquartered in Southern California and has formed partnerships with notable nonprofits that support many distinct causes. Some of the causes and organizations include breast cancer prevention and treatment (National Breast Cancer Foundation), pediatric AIDS prevention and treatment (Keep A Child Alive), Autism research and treatment (ACT Today!), US forest preservation and protection (American Forests), and ending childhood hunger (Share Our Strength). ONEHOPE Inc. not only produces its own cause-centric products and services, it is also the creator and leading provider of consulting services for companies small to large on Cause-Centric Commerce. For more information, please visit http://www.onehopewine.com and follow us @ONEHOPEWine.
About Pattison's Academy
Pattison's Academy serves children with severe and multiple disabilities and exposes them a community inclusive rehabilitative program that is completely integrated with an educational environment. Located in South Carolina, the organization was inspired by a little girl named Pattison Julia Sloat, her sisters Amelia and Mariana, and the thousands of other children like her and the mothers, fathers, brothers, sisters, grandparents, great grand parents, and neighbors who are caring for and loving them and know they deserve what we all want: love, nourishment, a safe home, education, independence, and a chance to make their dreams come true. Visit us at http://www.pattisonsacademy.org for more information.