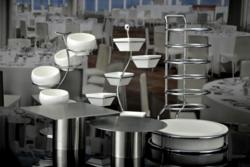 Our Oneida Banquetware collection is designed to enhance creative culinary presentations. It is a compelling compliment to our tabletop portfolio.
Chicago, IL (PRWEB) May 15, 2013
Oneida, the global leader in designing the dining experience, will showcase a new and extensive collection of banquetware pieces at the 2013 National Restaurant Show.
"Our Oneida Banquetware collection is designed to enhance creative culinary presentations. This innovative new collection allows food and beverage teams more freedom to stage innovative events that include food storage, beverage dispensers, serving platforms, risers, pillars and bamboo accessories. Inspired by compelling design styles including a less-is-more Bauhaus positioning, and innovative geometric Art Deco shapes, the Oneida Buffet Collection is a compelling compliment to our tabletop portfolio," stated Umberto Filice, Senior Vice President of North American Sales.
New product introductions will also be featured in Drinkware, Dinnerware, and Flatware positioned effectively within the prevailing design, food and lifestyle trends in the market.
DRINKWARE
Flame™, new from Stölzle, features the fluid graceful profiles of fire. Emotional and organic, this lux shape delivers visual excitement. The pure tactile satisfaction of these dramatic tapers, with shear rims, maximizes the fine dining experience.
Celebration™, new from Stölzle, is both sophisticated and mainstream. This elegant shape features a drawn stem, and sheer fire polished rim. Exceptional brilliance that is enhanced by seamless stems clearly distinguishes this classic.
DINNERWARE
Connect Radial™, new from Schönwald, captures a modern linear spirit. Concentric and crisp, the visual created inspires precision and radial perfection. Clearly upscale, with a range of clean and sleek shapes enhanced using subtle refinement of axis.
Sahara™, new from Sant'Andrea, focuses the culinary visual using textural terracing. Framing each piece with movement and organic texture, this fine porcelain shape speaks to culinary creativity with a voice that merges with our natural world.
FLATWARE
Verge™ creates an aesthetic that draws from the folded surfaces of origami. Each gleamingly polished surface suggests jeweled facets of reflective energy. Unique and textural sculpture in 18/10, define creativity on the tabletop.
Perpetua™ is clean and sleek, modern and understated. High-lux mirror polishing reminds us that flatware is jewelry for the table. Formed from solid 18/10 stainless steel of the highest quality, Perpetua's form follows its function.
About Oneida
Oneida Ltd. is one of the world's largest designer and seller of stainless steel and silverplated flatware for the consumer and foodservice industries. It is also the largest supplier of dinnerware to the foodservice industry in North America. The company operates in the United States, Canada, Mexico and Latin America, Europe and Asia marketing and distributing tabletop products, which include flatware, dinnerware, crystal stemware, glassware and kitchen tools and gadgets. The company originated in the mid-nineteenth century and has since grown into one of the most recognized brands in the industry. Driven by devotion to design, Oneida prides itself on the finest quality products and modern, decorative and classic tableware collections.