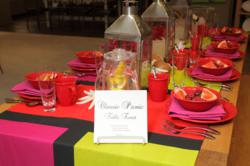 We encourage our customers to use ceramic dinnerware and stainless flatware products even for outdoor entertaining. It looks beautiful, their guests will appreciate it, and it creates less waste, stated Amy Gebhardt, Director of Public Relations.
Oneida, NY (PRWEB) July 22, 2011
Summer is the perfect time to practice going green if you aren't already. The warmer weather and choice of fresh fruits and vegetables lend to festive outdoor dining and impromptu picnics. Whether you are cooking for your family or hosting a lavish dinner party for friends, there are a number of simple things you can do to reduce your eco-footprint… and impress your guests!
Oneida offers a list of ten tips on how to enjoy the environment and entertain with eco-friendly flare:

Plan your event wisely. Use Evite, Facebook or email to get the word out rather than using paper.
Reduce gas consumption. Compile your locally sourced shopping list in advance to avoid extra trips and wasted gas. Encourage your guests to carpool or walk if possible.
Say no to disposables! Set your table with china and glasses. Avoid paper cups, plates, napkins, and plastic utensils. Even the biodegradable ones take up unnecessary space in landfills. Real silverware is so much nicer, doesn't break and can be tossed in the dishwasher. For picnics, pack a towel to protect your dishes or use non-breakable, reusable acrylic tableware.
Set the mood with soy candles. They burn cleaner and are made of renewable ingredients.
A pair tied in raffia to a jar of local honey is a perfect party favor.
Use cloth napkins, dish towels, tablecloths and runners. Look to nature for earth-friendly table decorations such as lemons in a bowl, pinecones, seashells, twigs, flowers, leaves, pretty stones and potted plants. Use your imagination!
Buy local. Where you shop for your food is important. Choose natural or organic foods. Support farmer's markets. Check out the seasonal produce calendar. Ask the manager of your grocery store about local selections. Food grown closer to home has fewer transportation emissions and is fresher.
Minimize processing and packaging with foods. Select fruits and vegetables individually. It gives you greater quality control and eliminates Styrofoam and plastic packaging.
Use reusable shopping bags and totes. Keep them in your car so you'll always have them handy. They can be folded and stored in your glove compartment.
Keep a clean mug or two in your car for take-out beverages. Every cup counts!
Sip wisely! Avoid serving drinks in cans and bottles. If you must, make sure a recycle bin is nearby. Buy green wines and organic beer from a local brewery if possible. Serve fair trade sustainable coffee for dessert.
Clean up green. Send leftovers home in reusable containers for your guests to enjoy. Recycle properly. Compost scraps. Buy a small bin to keep on your kitchen counter. If you don't have a compost pile, maybe your neighbor does. Run your dishwasher on the low heat setting and skip the pre-rinse cycle.
About Oneida
Oneida Ltd. is one of the world's largest marketers of silverplated and stainless steel flatware for the consumer and foodservice industries. It is also the largest supplier of dinnerware to the foodservice industry in North America. It has operations in the United States, Canada, Mexico & Latin America, Europe, and China market and distributes flatware products, dinnerware, and crystal stemware, glassware and kitchen tools & gadgets. The company originated in the mid-nineteenth century and has since grown into one of the most recognized brands in the industry. Driven by devotion to design, Oneida prides itself on the finest quality products and modern, decorative and classic tableware collections. http://www.oneida.com
###