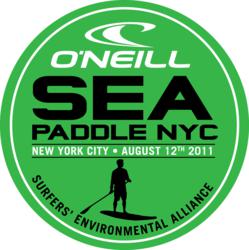 New York, New York (PRWEB) July 28, 2011
Surfers' Environmental Alliance (SEA) will once again rally the surf industry, water-sport enthusiasts, and autism advocates in support of this year's O'Neill SEA Paddle NYC. Happening Friday, August 12 in Manhattan, with the support of presenting sponsor O'Neill and titanium sponsor WaveJet Propulsion, this year's paddle will bring an unprecedented number of athletes and advocates from around the world to New York City to make a stand against autism.
The event marks the fifth year SEA has organized the charity paddle dedicated to raising funds in support of autism awareness and SEA's environmental projects. With impressive views of the Manhattan skyline, it has become one of the stand-up paddle industry's most unique events.
Starting at 9:00 a.m. at Pier 40, hundreds of paddlers will begin their 26.5-mile journey around Manhattan. SEA's Elite Racers, including Rob Rojas, Thomas "Maximus" Shahinian and Annabel Anderson, will follow close behind, taking to the water at 10:00 a.m. Competitive racers and charity paddlers will follow the same grueling route, which includes a north-bound paddle up the Hudson River, past the 79 St. Boat Basin and under the George Washington Bridge. Paddlers will then continue on to the Harlem and East Rivers, and eventually finish on the only sliver of beach in New York City, located just under the Brooklyn Bridge.
Scenic highlights enjoyed by the paddlers include glimpses of the Statue of Liberty, The Intrepid, and the Empire State and Chrysler Buildings. The Bronx's Fort Apache, Yankee Stadium, the United Nations and Roosevelt Island also are captured within the 26.5-mile paddle.
A more than six-hour adventure for most, the O'Neill SEA Paddle NYC will aim to raise more than $500,000 for SEA's charity beneficiaries which include Surfers Healing, Autism Family Services of New Jersey, Autism New Jersey, Hawaii Autism Foundation, Best Day Foundation, Virginia Autism Project, and Parents of Autistic Children (POAC), as well as Surfers' Environmental Alliance.
After a challenging day on the water, paddlers, supporters and spectators will celebrate at the Ultimate Beach Party hosted at the South Street Seaport's new venue the Beekman Beer Garden. SEA's staple fundraising event, The White Water Evening, also at the Seaport, will begin at 6:00 p.m. and feature live music, auctions, celebrity appearances, awards presentations and more. The event will be catered by the legendary Harbour Lights Restaurant.
In addition to presenting sponsor O'Neill, Titanium Sponsor WaveJet Propulsion is supporting Extreme Surfing World Champion Garrett McNamara's participation in this year's SEA Paddle. DownUnder Kayaking is also among this year's corporate sponsors and will provide prize money for the Elite Race.
Last year's SEA Paddle NYC raised more than $400,000 for its charity beneficiaries and boasted more than 150 paddlers. The August-12 event hopes to surpass SEA's 2010 efforts, which would make this year the most successful fundraiser to date for the non-profit organization.
For more information about Surfers' Environmental Alliance and the O'Neill SEA Paddle NYC, or to register for the event, please visit http://www.SeaPaddleNYC.org.
About Surfers' Environmental Alliance (SEA)
Surfers' Environmental Alliance is committed to the preservation and protection of the environmental and cultural elements that are inherent to the sport of surfing. SEA's goals are achieved through grassroots activism, community involvement, education and humanitarian efforts. The non-profit organization successfully engages in projects that strive to conserve the quality of marine environments; preserve or enhance surf breaks; protect beach-access rights; and safeguard the coastal surf zone from unnecessary development. To learn more, please visit http://www.seapaddlenyc.org.
About O'Neill
Presenting sponsor O'Neill is a perfect fit with Surfers' Environmental Alliance and this event. All O'Neill products are engineered to allow comfort and maximum flexibility, while providing protection from the elements, in and out of the water. O'Neill offers everything a paddler needs from full suits, UV protectant tops, board shorts, PFD's, eye wear, and a whole line of products made from 87 percent recycled plastics. O'Neill's commitment to skin cancer awareness continues through its endorsement by the Skin Cancer Foundation for the third year in a row. In this year's O'Neill SEA Paddle NYC, the race jerseys are something special and unique to O'Neill. Each Jersey worn by competitors offers 50+ UV protection, which will further help to spread the company's message, "DON'T GET BURNED!"
###