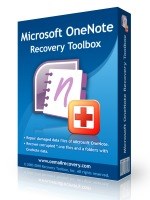 a powerful, yet easy to use tool for recovering the contents of damaged OneNote files.
Alexandria, VA (PRWEB) December 18, 2012
Recovery Toolbox, an expert in the area of highly specialized recovery tools, releases OneNote Recovery Toolbox, a brand-new solution for damaged *.one files used by Microsoft OneNote for storing notes. The program boasts a compact size, remarkable ease of use and consistent efficiency in recovering data from corrupted OneNote files. The authors of the program designed the interface as a step-by-step wizard, which makes it easier to interact with the program and make the right decisions. The proprietary algorithms in the core of the program ensure complete scanning of the source .one files and their scrupulous restoration even in worst-case scenarios.
"OneNote is not the kind of program that everybody knows," explains, Victor Bobrov - Lead Developer at Recovery Toolbox. "However, there are companies that use OneNote A LOT for storing information that is fairly important. And since we've always had the goal of covering as many applications as possible, we made a decision to write one for OneNote. The response was surprising and very positive. We had never imagined that so many people were using OneNote and having problems due to corrupted files!"
The demo version of the software with limited functionality can be downloaded from the official site. Purchasing a valid license and entering a registration code unlocks all program features without limitations. All Recovery Toolbox products are thoroughly tested with the most reliable anti-virus tools and are 100% safe to download.